April 3, 2014
Employees here are known for doing whatever it takes to bring you great jeans, khakis and shirts. They're also known for giving back in the communities where they work and live.
Those contributions happen throughout the year, but they peak on Community Day. Every May, LS&Co. employees around the world step away from their desks for a day to pull weeds, repair schools, clean beaches—you name it.
Before that can happen, our Community Ambassadors do the preliminary work that makes our annual day of volunteering possible. We interviewed two such ambassadors at our New York regional sales office to find out about their team's volunteer plans for the May 7 Community Day event.
Unzipped: What are your roles and how long have you been with the company?
Maureen McElroy: My name is Maureen McElroy. I'm an office manager at the New York regional sales office and will have been with the company 35 years this November.
John Cisternino: And my name is John Cisternino. I'm a customer relations manager under the customer and business operations umbrella. I will have been at LS&Co. for 19 years this coming November.
What's the name of the organization you are working with this Community Day?
The New York office has had a special relationship for many years with the nonprofit God's Love We Deliver (GLWD). We're thrilled to volunteer there again this year.
The mission of GLWD is to improve the health and well-being of men, women and children living with HIV/AIDS, cancer and other serious illnesses by alleviating hunger and malnutrition. The nonprofit also provides illness-specific nutrition education and counseling to clients, families, care providers and other service organizations.
GLWD provides all of their services free of charge, regardless of income. With the help of volunteers and supporters, GLWD cooks and delivers 1.2 million meals each year. Every weekday, their team of chefs, cooks, porters and many dozens of volunteers prepare, cook and package the thousands of entrees, soups, desserts, bagels or rolls for people in need.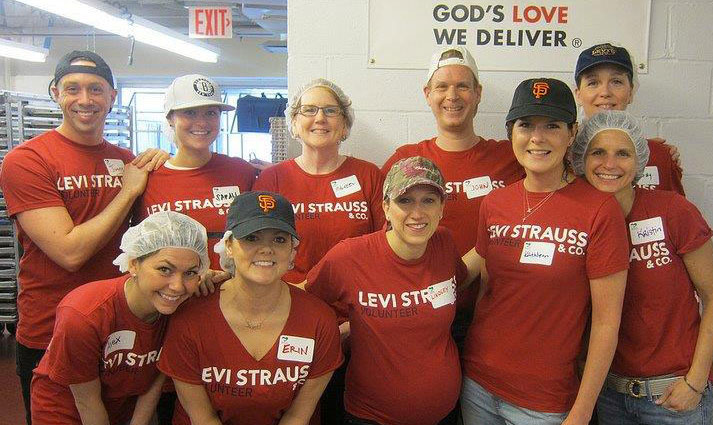 Tell us a little bit about the work that volunteers will be doing.
GLWD's dedicated volunteers come from all walks of life and from diverse socioeconomic, religious and ethnic backgrounds. Our team of volunteers will prepare and deliver nutritious, high-quality meals to people who, because of their illness, are unable to provide or prepare meals for themselves. Tasks may include packaging meals, chopping onions, wrapping rolls, peeling potatoes or making meatballs. In an assembly line fashion, volunteers will pack delivery bags for each client and his or her dependents, making sure that they receive the right meal for them.
What's the best thing about serving as a Community Day Ambassador?
The team camaraderie — all of our employees coming together, having a good time and knowing we are helping people in need.
How are you exemplifying LS&Co.'s values this Community Day?
Our team is volunteering for a project that matches one of the company's core pillars – HIV/AIDS. More than 30 years ago, LS&Co. became one of the first companies to acknowledge HIV/AIDS and to apply significant resources towards its eradication. We're proud to support this cause.