March 25, 2014
We're keeping a close eye on the NCAA Basketball Tournament to see how far the Dockers® Game Day Khakis teams can go.
So far, so good!
The brand currently has 20 teams in its Game Day Khakis roster. (Look for that to grow this year.)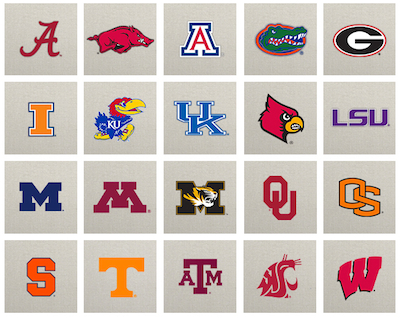 When the NCAA tournament tipped off, ten of those teams were in the mix. Let's call them the GDK 10:
• Arizona
• Florida
• Kansas
• Kentucky
• Louisville
• Michigan
• Oklahoma
• Syracuse
• Tennessee
• Wisconsin
The early rounds took their toll on our GDK 10, but we're still looking pretty good. Seven teams remain in the hunt. This is how the GDK 7 will match up this week:
Arizona
vs.
San Diego State University
Wisconsin
vs.
Baylor
Kentucky
vs.
Louisville
Tennessee
vs.
Michigan
Florida
vs.
UCLA
When the dust settles this Friday, we'll have at least two GDK teams—and as many as five—going to the round of eight. And get this: Depending upon how the ball bounces, three of the four teams at the end could have fans wearing Game Day Khakis.
We hope one of your teams remains in the running. If not, surely there's a sentimental favorite you can still cheer on. Either way, you should know that, through March 31, Dockers® is offering a free upgrade to two-day shipping on Game Day Khakis and shorts, so you could be rooting your team on in style.
Go team!