January 30, 2014
One of the best parts of being a dad in the San Francisco Bay Area is taking my kids to a San Francisco Giants game. I'm sure a lot of you can relate.
And, given my job leading the Levi's® brand, one of the best parts of watching a game at AT&T Park is seeing that right-field wall – Levi's® Landing.
I honestly can't tell you how proud it makes me feel.
So you can imagine how excited I am to tell you that we're renewing our partnership with the Giants, including the sponsorship of Levi's® Landing, for five more years.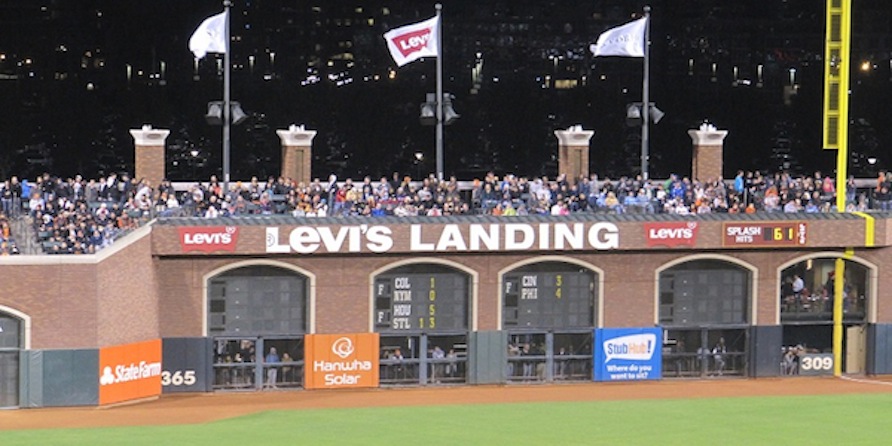 The Levi's® brand has been synonymous with that right-field wall since 2006. It's known for its sweeping views of McCovey Cove and is home to the water cannons, which fly the Levi's® logo and shoot water hundreds of feet into the air after each Giants home run.
By the way, I'm counting on seeing those cannons go off a lot in the upcoming season.
I'm also excited that our deal with the Giants means that the team's "casual Friday" policy will now be called "Levi's® Casual Fridays." The team will encourage employees, including players and coaches, to sport their Levi's® jeans every Friday.
Personally, I don't think it'll take much encouragement. I know the Levi's® brand has a lot of fans on the Giants team. When it comes to blue jeans, they bleed Levi's® red, just like, when it comes to baseball, we bleed Giants orange.
Today, we shared the news with our employees at our San Francisco headquarters, and I have to tell you they – like me – were thrilled.
Of course, it didn't hurt that players Brandon Belt and Javier Lopez were on hand for the event, as was Giants President and CEO Larry Baer.
Oh, and it wouldn't have been the same without team mascot Lou Seal.
I'm looking forward to the April 8th home opener. . Look for me on Levi's® Landing, wearing my Levi's® jeans and cheering the Giants on to victory – the first of many in what promises to be a great season.
From all of us at the Levi's® brand, Go Giants!