April 2, 2013
Five years ago, Veronica was living in San Francisco's Mission neighborhood and dreamed of owning a restaurant to serve her Mexico City favorites: gorditas, huaraches, and pozole. But without access to mainstream loans, starting and growing a business was virtually impossible.
That's where Mission Asset Fund (MAF) enters the scene.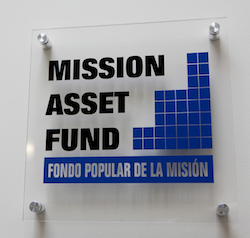 In 2007, the Levi Strauss Foundation gave us a start-up $1 million grant to promote savings among low-income people in the Mission District, where Levi Strauss & Co. had a sewing plant for more than 90 years. Today, MAF has helped more than 1,700 people join our Lending Circles – a program where members lend and borrow money from a common pool each month.
Lending Circles build on the kind of informal lending and borrowing that Mission residents have been doing for decades, but the end result is unprecedented.
Through our Lending Circles, people become members of a social group that provides loans with zero fees and zero interest. MAF then reports the group's activity to credit agencies. This allows people to establish or build credit scores, and eventually secure larger loans from banks.
Members use these loans to pay down debt, finance their children education, or make a down payment on a home.
Veronica entered a Lending Circle to pursue her dreams of owning a restaurant. She borrowed $30,000 in zero-interest loans from her peers and took financial management classes to help her navigate the financial system. As she made payments on time, Veronica's credit score improved – and she secured access to new lines of credit from wholesale suppliers.
With help from another Levi Strauss Foundation community partner, La Cocina, Veronica's business has grown from a small catering business to a food truck – and eventually to a brick-and-mortar restaurant in Marin County.
This is just one story among thousands. It speaks to a huge shift in the way low-income people are accessing financial services and products. In the past five years, Mission residents have lent one another $1.7 million dollars through our Lending Circles. They have avoided paying $350,000 in exorbitant fees and excessive interest to predatory lenders.
All told, the Levi Strauss Foundation's initial $1.0 million investment in MAF has leveraged an additional $4.5 million in capital flow that benefits the local Mission economy.
These extraordinary results are a testament to the remarkable resourcefulness and potential of low-income communities. Based on our success in San Francisco, MAF is partnering with 15 nonprofit organizations in six U.S. states to set up Lending Circles in low-income communities.
We are proud to know that, together with the Levi Strauss Foundation, we are opening doors for people like Veronica to work toward a better future.