January 9, 2013
As a Levi's® merchandise coordinator, it's not often I get to help dress a wedding party, but that's just what happened to me recently.
I was working at Macy's Oak Court store in Memphis, Tenn., when groom Nick Seccombe and three of his groomsmen approached, looking for wedding wear. They weren't passing through the Levi's® section on their way to buy or rent tuxedos. Nick knew exactly what he wanted.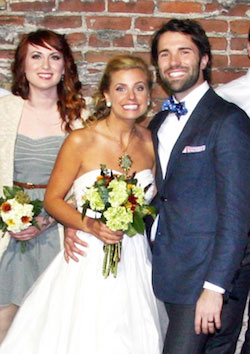 He was a big fan of dark denim and the 511™ fit, so the perfect choice was the Levi's® 511™ Skinny in Rigid. The groomsmen wanted something a little different. I suggested the 508™ Regular Taper, also in Rigid, which turned out to be a big hit with the guys.
As far as blue jeans go, the Rigid finish is about as close as you'll get to formal dress.
Nick and his bride, Marcie Keech, were married at Ernestine & Hazel's, a historic Mephis venue turned cool dive bar – the perfect setting for a denim-clad wedding party.
The groom's sister Lindsay, was kind enough to send me a thank-you note and included a picture of the happy couple. And the bride has since shared a few more. (Have a look below.)
So while I wasn't at the wedding, I was proud to help my "friend" Levi Strauss be there! And given the "Denim, Denim, Denim" theme, I think he felt right at home — on the bales of hay and all.
Congratulations to Nick and Marcie! I know your marriage will be as long-lasting as those Levi's® jeans.