March 19, 2012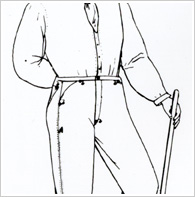 It was 137 years ago today when the awarding of a U.S. patent – number 139,121, if you're into details – essentially led to the invention of blue jeans.
That patent was for the process of strengthening men's work pants with copper rivets. And it was awarded to Jacob Davis and Levi Strauss & Co.
Levi Strauss was a dry goods wholesaler in San Francisco when Davis approached him about a great new system for making sturdy men's work pants – with rivets. Davis needed a business partner to make the innovation work. And Levi, who supplied Davis with fabric, agreed to work with him.
Davis had been making riveted pants out of white cotton duck material for his Reno customers since 1871, and after the patent came through two years later, LS&Co. began to make pants from blue denim.
Originally called "waist overalls" or simply "overalls" to distinguish them from bib overalls – these first jeans had one pocket in back and two pockets plus the watch pocket in front. They also had a strap and buckle on the back of the waistband to cinch the pants in, and buttons for suspenders to hold the pants up.
The Arcuate stitching design, now seen on virtually all Levi's® jeans, was there from the beginning. We don't know why it was first used or what the design was meant to represent – a result of the loss of our records in the 1906 San Francisco earthquake and fire.
The denim came from the Amoskeag Manufacturing Company in Manchester, New Hampshire. Their top-of-the-line denim was so famous it was simply called "XX," and that's the name we gave to the first jeans. They were given their 501® trademark in 1890.
Patents are exclusive to their inventors for only 17 years. In 1890, LS&CO. was no longer the only company to make riveted clothing.
But we created this new category of men's clothing – today called blue jeans – 137 years ago, a fact that no competitor, new or old, can ever dispute.