July 22, 2011
For the past 25 years, I've been taking my kids and grandkids to the Stern Grove Festival. To me, it's the best concert series in the San Francisco Bay Area, and even better, it's free to all.
Stern Grove is a recreation park in San Francisco that also serves as a venue for the performing arts. It's dazzling to experience the power of a gospel choir, the rhythms of a salsa band or the ethereal movement of acorps de ballet while picnicking amongst the giant redwood trees.
The park is actually named after Sigmund Stern, nephew of Levi Strauss and one of Levi Strauss & Co.'s early business leaders. Under his leadership, the company expanded beyond riveted garments for working men and began offering women's clothing, children's playsuits and even dressy men's khaki pants—products that the Company continues to market today through the Levi's®, Dockers® and dENiZEN™ brands.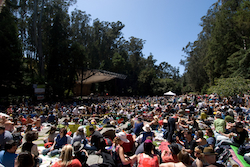 Three years after Sigmund's death in 1928, his wife Rosalie gave Stern Grove as a gift to the City of San Francisco. TheStern Grove Festival Association was established to preserve the park as a place where people could enjoy a wide range of art performances free of charge.
The Festival's current lineup is both exceptional and culturally diverse, reflecting the global roots of Bay Area residents. Over the next few weeks, scheduled performers include the San Francisco Symphony, Brazilian samba star Luisa Maita, R&B singer Aaron Neville and the San Francisco Ballet. All shows are admission-free. This summer, more than 75,000 people from all walks of life are expected to attend.
The Levi Strauss Foundation has supported the Stern Grove Festival for decades, and we also fund their year-round outreach programs that teach children and youth about the value and possibilities of art. These workshops give children and teens in low-income San Francisco neighborhoods a unique opportunity to foster creativity and self-expression.
There are five Sunday concerts left this season. If you're in the area, don't hesitate to pack a picnic and enjoy a show. Here's the San Francisco Ballet's spellbinding performance at the Grove last summer: