August 8, 2010
Who knew the first internship of my professional career would land me in an OMG moment in the dressing room?
My name is Elizabeth, and I'm a college senior lucky enough to have had the opportunity to work at Levi Strauss & Co. in San Francisco this summer. On day one of the job, my boss, Blake, took me on a field trip to the Levi's® Store at Union Square. She told me about Levi's® Curve ID and how 3-D scans of 60,000 women were studied to craft the perfect fit, how You Nguyen is pretty much the most fabulous man on earth, and how the jeans he designed are supposed to fit me perfectly the first time I try them on.
Naturally, I had my doubts.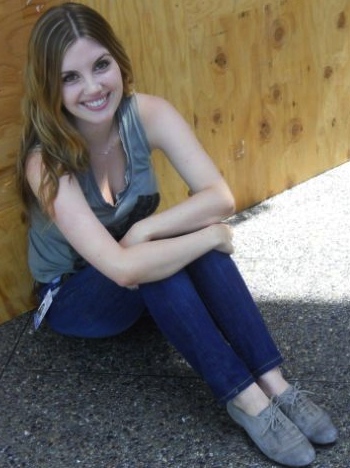 First, you should know, I am five feet tall. Finding jeans that don't sag in the knee, flatten my rear,  or accentuate my little love handles  is nearly impossible. Although I've finally accepted the fact that I will alwayshave to have my jeans hemmed to a measly 27-inch inseam, the struggle to find the perfect pair of jeans still makes me want to throw a tantrum.
So Blake and I head up the stairs to Women's apparel at the Levi's® store, and I ask to be fitted for the Curve ID. The sales associate wraps, ties, and adjusts the measuring tape around me and announces. "You're the 'Slight,'" He hands me a pair of Levi's® Slight Curve Skinny jeans and points me toward the fitting rooms.
In ten minutes I emerge, and these jeans fit me perfectly!
"O-M-G, those are AMAZING," is all Blake can say. The distressing isn't overkill. The length isn't heinously excessive, and—brace yourself—my butt looks amazing! These are, like, the pinnacle of denim! What usually takes an hour only took me ten minutes!
The idea behind Levi's® Curve ID is sheer genius. To have a practically custom-made pair of jeans based on your body shape is what we all dream of. I love jeans, but it seems like they are often created for women almost a foot taller than me, with 0% body fat. But with Curve ID, which is designed to fit a woman's "shape not size," I look incredible—sans muffin top!