June 25, 2010
June 26, 1847 was a momentous day in the history of blue jeans.
Why?
Because it's the day that the Bavarian government – the Regierung – gave permission for the Strauss family of Buttenheim to emigrate from Germany to America.
You couldn't just pick up and leave certain countries in the mid-nineteenth century; there was quite the long process to go through before you could get on a ship. So the family had to publish their intention in the newspaper, and apply for the official OK to leave the region. Here's the notice: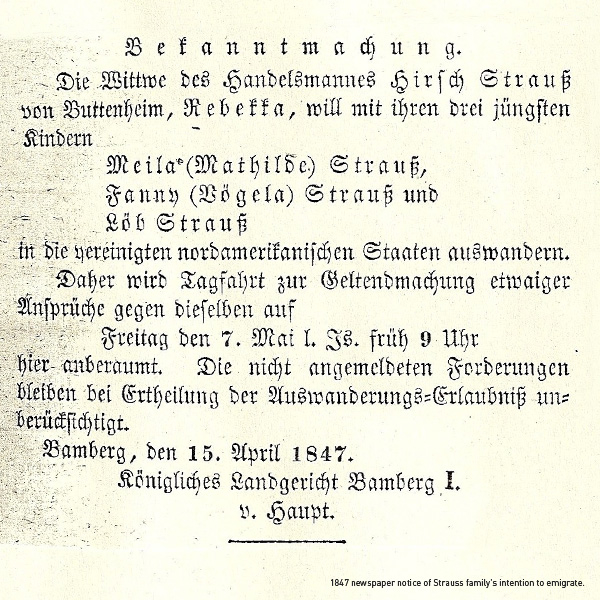 And who was included in that family group? Levi Strauss, of course: the man who gave jeans to the world.
Levi, his mother and two sisters left Bavaria sometime in 1847 and sailed the Atlantic for New York. There, Levi joined his two half-brothers in the family dry goods business.
When news of the California Gold Rush trickled back to their Lower East Side neighborhood (then calledKleindeutschland, or Little Germany), it was decided that Levi would head to San Francisco to start up a West Coast branch of the business. A week after becoming an American citizen, Levi left for the City by the Bay, arriving in March of 1853.
Twenty years later, he partnered with Jacob Davis, a Latvian native working as a tailor in Reno, Nevada, who had started making men's work pants with metal rivets for strength. In 1873 these two immigrants – the tailor and the merchant – combined their talents to create the most American of garments: the blue jean.
And we owe it all to the government of Bavaria, who saw fit to let the family leave the country for a new life in the New World, exactly 163 years ago.