There are more jails in the United States than colleges and universities.
That staggering, unsettling fact is why Zachary Norris wants to ensure that young people have better prospects.
As part of Levi Strauss & Co.'s new class of Pioneers in Justice – Pioneers 2020 – Zachary represents the next-generation of Bay Area social justice leaders at the forefront of policy and systems change in the areas of gender, climate change, criminal justice, LGBT rights, racial equity, immigrant rights and gun violence.
Serving as the Executive Director at Ella Baker Center for Human Rights, an organization that advocates for criminal justice reform, Zachary lives up to the legacy of the organization's namesake — Ella Baker was a hero of the civil rights freedom movement. In his role, the Harvard University alum follows in the late pioneer's footsteps by building a movement to end mass incarceration and criminalization by moving funding away from prisons and punishment and toward family-driven solutions that improve public health, safety and prosperity for all communities.
Growing up in East Oakland, California, Zachary saw firsthand the disparities between how youth in the inner city and the youth he encountered during his Ivy League days were treated for the same misconducts. "The students at my school were getting the support and services they needed to continue to do well and be successful and the youth in my neighborhood were getting arrested," he recalls. "The experience of seeing those disparities firsthand had a huge impact on me, which led me to do this work."
And he's been on a mission ever since.
Upon finishing undergrad, Zachary worked at Ella Baker as a law student intern where he was instrumental in the incubation stages of "Books Not Bars," a campaign that champions effective alternatives to the state's broken youth prison system by sharing stories from people directly impacted by it, crafting and passing cutting-edge policies, and sharing research to demonstrate positive alternatives. "I was involved in some of the very first campaigns," he explained. "Through the 'Stop the Super Jail' movement, we were successful in getting them to reduce the expansion and relocate the juvenile hall to the county closer to the families of young people who were locked up in it."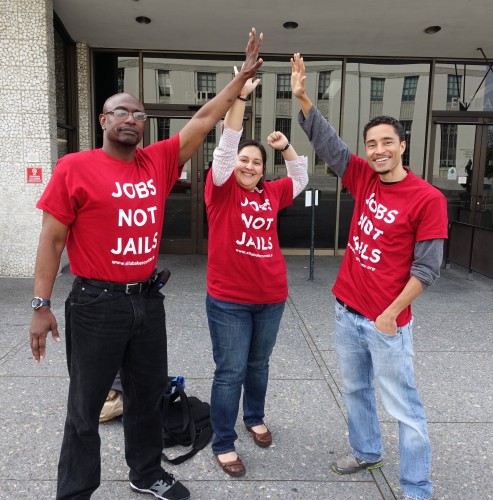 In 2004, he started working full-time and eventually went on to become the director of "Books Not Bars" where he helped lead a campaign to close the California Youth Authority, resulting in a decline in the state's youth prison population from 4,800 to 922 children. "Over an 8-year campaign, we were successful in closing 5 of the 8 state youth prisons and redirecting resources back to the local level," he said. "We saw no increase in youth crime even though we were able to close those youth prisons."
Now as the Executive Director of Ella Baker, he remains passionate about the well-being of youth in the criminal justice system, but his belief that most people would respond to economic opportunity employment and restorative justice extends to adulthood too.
For me it's incredibly important to reform the prison system, period, not just the youth prison system," he said. At Ella Baker, they believe that all people impacted by the criminal justice system, not just youth would respond positively to alternative methods toward making amends for their wrongs instead of the current system. "We have a lock 'em up policy that has devastated individuals and communities and made us actually less safe," he explained.
That's why he and his team are steadfast in creating reform programs that will uplift low-income families and those who have been previously incarcerated. In Alameda County, they were able to redirect $10-17 million away from failed incarceration policies to employment and other opportunities for those coming out of jail. They're also working on the implementation of Proposition 47, which is an initiative passed by California voters to change felony sentencing and ultimately move resources away from prisons to education.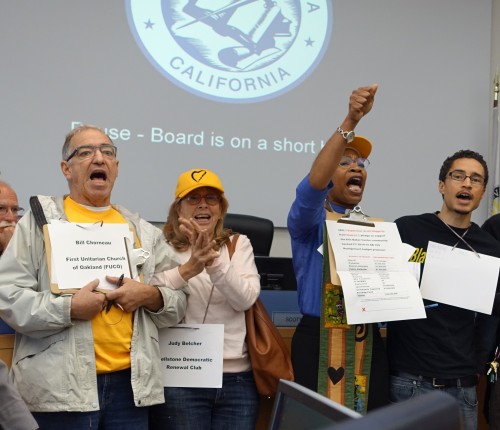 Now with more resources, one of the organization's biggest undertakings is working with Restaurants Opportunities Centers United (ROC) to launch Restore Oakland, a center that will house a restaurant run by low-income families and formerly incarcerated people and their families. In addition, it would house restorative justice programming run by community partners, including Restorative Justice for Oakland Youth, Community Works West, and Urban Peace Movement.
With hopes of opening its doors in 2018, Zachary is excited to see their plans come to fruition. "It would be a tangible demonstration of our vision for community safety and forefront restorative justice," he said.
Despite the challenges before him, he's optimistic – not only for his upcoming projects, but for reforming the criminal justice system as a whole.
"I believe that this country can be greater than the worst mistakes that it's made in terms of racial and economic injustice," he said. "We really need to reckon with that history and have a justice system that values human beings and sees them as more than their worst mistakes."
And he's determined to help make that happen.
Header Image: Eurydice Galka Photography