July 11, 2023
Over the past five years, season after season, the Levi's® brand has introduced new products that meld innovative design thinking with an overriding commitment to sustainability. Now, in conjunction with the 150th anniversary of the iconic Levi's® 501® jean, the Levi's® brand is featuring a suite of products — a Plant-Based 501®, a hemp-cotton blend Selvedge 501® and a Circular 501® — that show how new thinking and technologies can be applied to an age-old classic, pointing the way to the future.
The Plant-Based 501® jean is made of at least 97% plant-based materials, with all certified organic cotton, natural dyestuff, a plant-based patch and ink made from wood waste. These jeans are an evolution in the company's design innovation practice, building on past seasons and establishing new foundations on which to build going forward. They're also an indication of what the industry could look like in the years ahead, given the push to minimize synthetic materials derived from fossil fuels and the need to make more garments with renewable inputs rather than finite resources.
"As a company that has been making 501® jeans for 150 years now, we have an opportunity — and a responsibility — to continually interrogate the process by which these jeans are made," said Paul Dillinger, vice president of design innovation at Levi Strauss & Co. "These jeans build on past efforts to create more circular jeans and in turn give us a foundation for future innovation."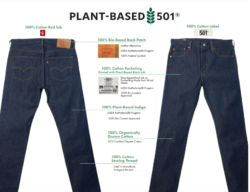 Building on our efforts with cottonized hemp over the years through its Wellthread® line, the Levi's® brand is also releasing a hemp-cotton blend Selvedge 501®. These jeans marry the premium selvedge fabric with the alternative fiber innovation that has characterized so much of the line's work in recent years.
Additionally, the brand is highlighting the Circular 501®, made with a mix of organic cotton and Renewcell's pioneering Circulose® fiber, viscose made in part from recycled denim and other forms of textile waste. The formulation allows us to use far fewer natural resources and chemicals in the production process. Each material component aligns with a strict single-fiber strategy that enables efficient recycling at the end of the garment's useful life. By replacing parts of the garment that would normally be made from synthetic fibers — like polyester pocketing, threads, labels and interfacing — with 100% cotton alternatives, we've removed synthetic elements that would otherwise disrupt the cotton recovery process. The result is a new jean made with old jeans that is itself designed to be recyclable, with the potential to be remade into new jeans, again and again.
"In our ongoing research and development, we strive to improve our design practices and conserve environmental resources every way we can," said Una Murphy, Levi's® director of design innovation. "By incorporating sustainable innovation, in mainline and premium product alike, we learn what's possible and how we can continue working toward solving some of our biggest challenges."
Find all three of these sustainable 501® jeans on levi.com this summer.