March 20, 2023
The biggest contributor to LS&Co.'s climate footprint is our supply chain operations, or our Scope 3, Purchased Goods and Services emissions, which represented 54% of our overall emissions footprint in FY21. In order to achieve our climate goals — including our commitment to reduce these emissions by 40% by 2025 — we must continue to support our suppliers' efforts to become more water and energy efficient and increase their use of renewable electricity.
We have been making significant progress on this front, and we're gratified to see others agree. Last week,  LS&Co. was named a 2022 Supplier Engagement Leader by CDP — a nonprofit that runs the global disclosure system for environmental impact — for our work engaging with our suppliers to tackle climate change.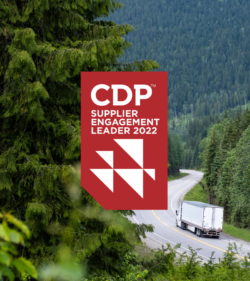 "We're honored to be recognized by CDP as a 2022 Supplier Engagement Leader. We know that to achieve our own climate goals and address the climate crisis, we must work closely with our suppliers to drive action," said Jeffrey Hogue, chief sustainability officer at Levi Strauss & Co. "From setting factory-level targets to identifying financing solutions for climate investments, together we're working to mitigate climate impacts and build a more resilient supply chain."
LS&Co. suppliers have agreed to emission reduction targets, using the base year with the earliest available Higg Facility Environmental Module (FEM) data for each. The targets are laid out in detailed roadmaps, complete with energy and water usage from the Higg FEM, target-setting support and detailed tracking of completed and upcoming initiatives. These roadmaps guide suppliers as they make big changes — like replacing an old coal-fired boiler — as well as smaller ones, such as adding efficient lighting. As of July 2022, we have set renewable energy and emissions targets with 66 key suppliers, representing 128 factories and mills.
In addition to setting roadmaps, we've partnered with financial institutions to help suppliers access investment funds to bring recommended solutions to life. For example, we expanded our partnership with the International Finance Corporation (IFC), the private-sector arm of the World Bank Group, to offer lower-cost financing to suppliers that have begun implementing low-carbon investment plans and have conducted cleaner production assessments. We also began a global collaboration in 2021 with HSBC on the Sustainability Supply Chain Finance (SSCF) program, expanding the availability of low-cost, early payment financing to our suppliers. Supplier interest rates for both the IFC and HSBC payments can be linked to performance against our Supplier Code of Conduct, providing incentives to improve social and environmental performance.