February 27, 2023
At LS&Co., we're committed to creating an inclusive culture that supports, understands and celebrates our veteran and military community. One exciting way we've brought this commitment to life is through our partnership with Hiring Our Heroes (HoH), which we'll work with to advance our workforce knowledge about veterans and their transition needs.
As part of our partnership, we're proud to have welcomed our first-ever HoH Fellow to LS&Co., Laurie Ellen Wash. She'll be leaving the service this year and is in her seventh week of a 12-week immersive learning experience on our HR communications team. We recently caught up with Laurie to better understand some of the challenges that transitioning veterans face, learn why she chose to join us at LS&Co. and capture her advice for other transitioning service members and companies looking to hire them.
Q: Laurie, why did you decide to join us at LS&Co.?
LS&Co. was one of a few opportunities I had to explore in my transition journey. In the grand scheme of things, LS&Co. appealed to my values, being a company that's never afraid to take a stand and always ready to support political action with important messages — from gun violence prevention to social justice to environmental action.
I was also very curious about what a remote communications team looked like and how culture is built and sustained in a remote environment. So far, LS&Co. has not disappointed. Through employee resource groups, friendly and supportive networking and a team that's ready to make you feel included, I think LS&Co. has a lot to teach me and a lot to teach other companies.
Q: What are some of the challenges that transitioning veterans face coming out of the armed forces?
There are many challenges that veterans face in their transition out of service. In particular, the challenges of translating their military experience into a civilian position.
Service members have the ability to pick up their work and bring it anywhere. A unit, battalion or brigade may act as its own unrestricted city that can travel wherever it needs, and in order to function as such, they need people to work in every possible position that a city might need to function. There are endless positions in the military that can translate into a civilian position, but it's on the service member and the company hiring them to recognize that even though the language and circumstances may differ, the experiences acquired still apply and the dedication to duty never truly fades.
Service members have to be leaders early on in their careers and oftentimes handle situations that can influence many people's lives. We are given certain levels of responsibility, from handling and operating million-dollar equipment to ensuring hundreds of people are trained and ready to endure unpredictable environments while keeping their composure and ability to find solutions. We're able to support our battle buddies (how we refer to our peers) under any condition. It could be pouring rain in the dead of night — we're always there for each other. Veterans are highly trained, dynamic and resilient individuals who are often bonded by a desire to make a difference in the world. A veteran may struggle putting all this experience and more into words at first, but with Hiring Our Heroes and a supportive team, that veteran will be able to convey that experience and demonstrate value in a corporate work environment.
I'm lucky to have a great support network with Hiring Our Heroes, where people like me can share their progress with other veterans working to transition into new careers.
Q: What do you hope to take away from your experience and time with us at LS&Co.?
I hope to grow in the communication field within the civilian world. The corporate world is similar to the military in a few ways, one of which is that there's a specific language and understanding of the operations of the organization. Learning this will be very helpful in my future endeavors. I'm also looking forward to building and developing my network and getting to know as many people in the Levi Strauss & Co. family as I can. Lastly, I hope my team gets to know and love the support I bring, and I hope my experience proves that I (and any transitioning veteran) can be a vital member of any team.
Q: What advice do you have for another veteran currently in the process of transitioning from the military into the civilian world?  
Don't tune out the advice you're getting. And this goes for both the veteran and those working to hire us. You must understand that we have different lived experiences, and that means that as veterans we bring different and unique perspectives to our work, our team and an organization more broadly.
As a veteran transitioning out of the service, it often involves relearning many of the same skills acquired through a different or abstract lens. Always take the time to slow down and listen with intent. Even if it may be something you have heard many times over, if you remain open, there will always be something to learn that can support you on your journey.
Don't get stuck in your ways, and don't try to bring the military into a civilian position. Be ready for and accept the changing environment and try and learn from as many people as you can.
Our Continued Commitment to Military Inclusion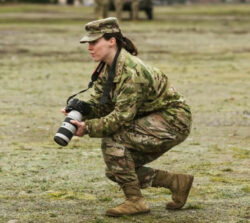 We recognize service members bring critically important skills to the workforce, including unique leadership qualities that make them a coveted source of talent. To establish our standing as a military-inclusive company, we will continue to drive progress through education, meaningful programming and lasting partnerships with veterans service organizations (VSOs).
We're beyond thrilled to have Laurie join our team. She's been a valuable asset, and we look forward to continuing to work with her and learning more about the needs of transitioning service members and veterans.