December 19, 2022
We're delighted to welcome shoppers to our newly reopened Levi's® store at Ion Orchard – the largest in Southeast Asia. The store is back and better than ever after a period of refurbishment, boasting a NextGen Indigo refresh that modernizes the shopping experience through cutting-edge digital innovations that support hybrid shopping experiences.
The NextGen concept aims to create immersive product discovery experiences, centered on the brand's promise of authentic self-expression and celebration of personal style. Upon entering, guests are greeted by LED-powered digital features, from an illuminated entry archway to in-store panels that provide experiential content. There are new spaces where guests can get shopping guidance, including the style lounge and the elevated fitting rooms.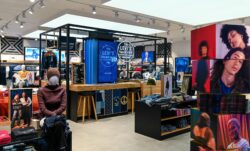 The location also features Singapore's first in-store tailoring service, providing guests with the opportunity to personalize their purchases on-site. They can make their denim their own by having it altered, embroidered or customized with original paneling, stenciling, patches, pins and studs.
These improvements were part of our transition to a 100% company-operated retail business in Singapore in June 2020, with Thailand following suit in April 2022. The enhancements were also a step towards advancing our direct-to-consumer (DTC) strategy in Southeast Asia, which continues to show momentum. With an owned-and-operated model, the brand is able to fully own the consumer experience through innovative omnichannel engagement strategies and the ability to provide a responsive product assortment based on local consumer needs.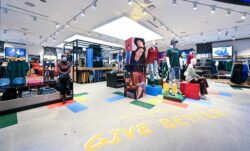 "We are committed to the future success of our business at every level and are reimagining what we do and how we win in today's marketplace," said Nuholt Huisamen, Managing Director of East Asia Pacific. "At the same time, we are embracing the technologies of tomorrow to power innovation, better serve our customers and deliver greater value to stakeholders."
Singapore has long been key to the Levi's® brand's East Asia Pacific expansion plans, so it was only a matter of time before the country would get its own NextGen Indigo stores, helping to diversify the business across geographies, apparel categories and distribution channels and offering a pinnacle expression of the brand.