March 30, 2022
Levi Strauss & Co. broke ground in on its sixth distribution center (DC) in Europe today, expanding our operations with a first-of-its-kind facility in Dorsten, Germany. The state-of-the-art DC marks a new sustainability milestone for us and will feature responsible design features inspired by Cradle to Cradle® principles throughout the 70,000 square meter (~750,000 square foot) project.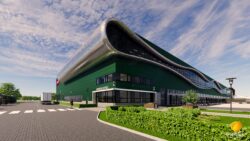 Our commitment to sustainability has influenced the conceptualization and the design of the project from the outset. The site selected for the DC is a former mining field that will be revitalized and repurposed. From the building process to our operations, we're working hard to be responsible stewards of the environmental resources we consume, including water, energy and soil. In fact, it will be the first LS&Co. DC to be both LEED (Leadership in Energy and Environmental Design) and WELL Health-Safety certified.
We're expanding beyond the elements found at our LEED Platinum-certified DC in Henderson, Nevada, and will include materials like sustainably sourced concrete, vegetated walls, rooftop solar panels and a green roof in Dorsten. DC employees will experience our sustainable choices firsthand through access to electric vehicle chargers, an on-site park and advanced recycling facilities.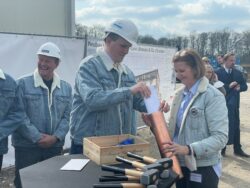 Dorsten is the ideal next step to grow our DC network in Europe. Its centralized location will expand our capacity to address the accelerated omnichannel growth we're experiencing across the region. The facility will manage the distribution of apparel, accessories and footwear across wholesale, retail, digital, ecommerce and marketplace channels.
"This state-of-the-art distribution center is a critical next step to optimize growth in Europe and continue to push the envelope for sustainable operations," said Stephen Berube, Senior Vice President, Global Distribution and Logistics. "We are excited to partner with the city of Dorsten to create a centralized hub for our growth aspirations while investing in the future of the community."
In partnership with Delta Development Group and the city of Dorsten, construction will begin in 2022 with plans to start operations in April 2024. We plan to employ up to 650 workers when the facility reaches full capacity of 55 million units in 2026.
Cradle to Cradle® and C2C® are registered trademarks of MBDC, LLC.