March 22, 2022
Fresh water is a precious resource that is in short supply in many parts of the world. It also is necessary to create many of the beloved products consumers enjoy today. Levi Strauss & Co. has long been working to ensure that water is available for both commerce and communities — a key part of our 2025 Water Action Strategy.
One way we do this is through our Recycle & Reuse (R&R) program, which minimizes fresh water usage in water-scarce areas. LS&Co. has been working with innovative supplier partners to implement this R&R program for more than a decade, protecting human health and the environment based on global reuse standards from various countries and the World Health Organization (WHO).
How It Works
A typical factory uses local fresh water from rivers, lakes and groundwater to process products, then sends the wastewater to a treatment plant before it re-enters the local environment. Through our R&R program, the wastewater is piped back into the factory after being treated so it can be used once again to make our products. When factories implement the program and meet the Recycle & Reuse Standards and Guidelines, recycled water may be used at the facility for laundry, landscape irrigation, cooling towers and onsite sanitary toilet flushing.
In some cases, the water doesn't need to be sent to the treatment plant at all. Instead, when processing water is clean enough, it can be recaptured and immediately reused. In both cases, the fresh water is being used multiple times, significantly reducing the aggregate amount of fresh water consumed.
Between 2014 and 2020, approximately 8.5 billion liters of water, the equivalent of nearly 3,400 Olympic-sized swimming pools, had been recycled at product and fabric manufacturing facilities. All LS&Co. products that are produced using 20% or more recycled water in their finishing process will qualify as Water<Less® products. Today, 67% of all LS&Co. products qualify as Water<Less®, and approximately 13 billion liters of water, or about 5,200 Olympic-sized swimming pools, have been saved since the program started.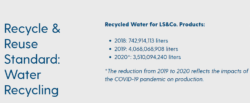 LS&Co. has a long history of leading on water, dating back to the establishment of the apparel industry's first wastewater quality guidelines in 1992, which we scaled to all of our garment manufacturing suppliers in 1994.
On this World Water Day, we can proudly hold up our water stewardship program and the ways we're working to decrease fresh water consumption in production. There is more work to be done, to be sure, to find more efficiencies at all stages of the product lifecycle and to continue working with suppliers on conservation technologies. But the reduced consumption tied to our R&R programs enables us to limit our fresh water use and invest in water access in communities where we work. Learn more about our community water projects in our Sustainability Report.