February 22, 2022
When it comes to the Levi's® brand business in Europe, it can't win without her.
We talked with Anit Van Eynde, VP, Marketing North Europe, about how the brand created a campaign designed to boost our women's business in Europe through a 'Win With Her" approach.
Anit, can you give us some background on how the "Win With Her" campaign came to be in North Europe?
Jeans have been a staple in every woman's capsule wardrobe for decades. Levi's® created the first-ever blue jean for women in 1934, and the brand has always been front and center when it comes to timeless style. However, we were seeing that womenswear sales were growing at a slower rate than menswear across North Europe. This was particularly evident during 2020 and the start of 2021, as many continued to work from home due to the ongoing COVID-19 pandemic. The share at the time between men's and women's sales was 70/30 (men to women), with awareness high but conversion (purchasing) low. So the aim became clear — drive awareness and purchase consideration online among women, measured by an uplift in brand perception and traffic to Levi.com and our app.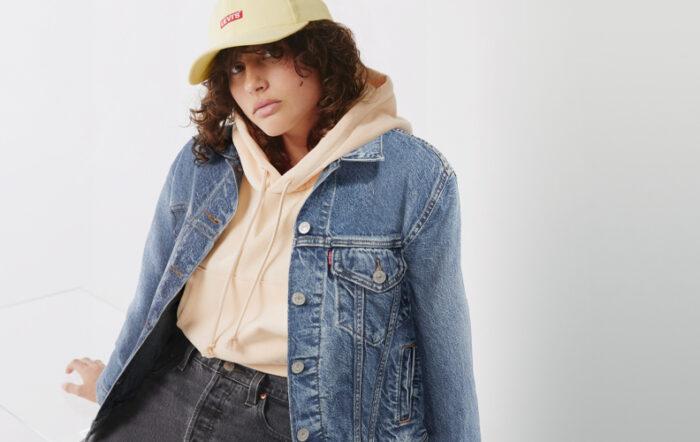 How did you bring this concept to life?
We responded to this challenge with an ongoing, cross-functional, digital-first marketing campaign targeted at women ages 18-30 (where we see the biggest opportunity to build long-term brand engagement, equity, marketshare and business growth). In 2021, we launched the "Win With Her" campaign in the UK, showcasing leading female talent — including popstar Mabel,  TV presenter Maya Jama and singer-songwriter Mahalia — through a series of stills and film across owned, earned, paid and shared channels.
The aim was to build brand affinity by inviting these women at the center of culture to become the face of Levi's® UK for the season. They each represent a strong female bond, lifting one another up with a sense of confidence and empowerment, individuality, authentic self-expression and empathy. They represent so many of the incredible women I am lucky enough to work with daily and who make the brand what it is today.
We then expanded with an influencer marketing campaign that included influencers like Lizzy Hadfield, Anais Gallagher, Joyce, Sasha Tesoro and Rachael Tan. They show how women of all shapes and sizes can find a Levi's® jean for them.
Is it paying off?
We have already seen the Levi's® UK social channels grow by 8,000 followers since September 2021, and the average engagement rate for Levi's® organic content featuring the Win With Her cohort was double that of global content (6.5%), at 16% on Instagram, and 12% and 14% on Facebook and Twitter respectively.
The paid media campaign delivered 110 million impressions throughout 2021, and on Levi.com we've seen revenue increase by 146% from Spring/Summer '21 to Fall/Winter '21, and we expect this to keep growing as we continue our efforts throughout 2022. Brand perceptions among women aged 18-30 have shown significant improvements, with the most prevalent shifts being that women see Levi's® as a brand that promotes a society for all groups of people and preserves the Earth for future generations. PR has generated 40+ articles throughout the year, reaching more than 257,580,000 people, with key pieces in Evening Standard, Vogue and The Face.
What's next for the campaign?
This season we'll be building on learnings from 2021 and expanding into other key markets such as Germany and Russia in 2022. We look forward to introducing new talent in the coming year with a strategy that will stretch to retail and hopefully wholesale too. Watch this space!