February 16, 2022
Our campus recruitment team reinvigorated their process for our 2022 Levi Strauss & Co. internship program to ensure we not only diversified our talent pool across the board but also provided them with the right 'FIT.'
The program has been officially rebranded as Fostering Intern Talent, aka FIT as in "helping people find the right FIT for their careers at LS&Co.," said Briana Medley, intern and early career program manager for LS&Co.  And thanks to the program adjustments, this summer's class is more diverse, and larger, than ever.
The class of 2022 has grown by 44% since last year, with about 50 participants now set to join the company this summer. The campus recruiting team was strategic in streamlining its approach and reaching out to a wider range of organizations that support the Black, Latinx and women university students. These include the National Black MBA Association, Society of Women Engineers (SWE) and Society of Professional Hispanic Engineers (SHPE).
Under the revised program, LS&Co. is also giving incoming interns earlier opportunities to connect with each other by developing a new LinkedIn group and hosting events such as a Winter Invitational that took place last week. These connection opportunities allow the interns to experience the culture at LS&Co. firsthand.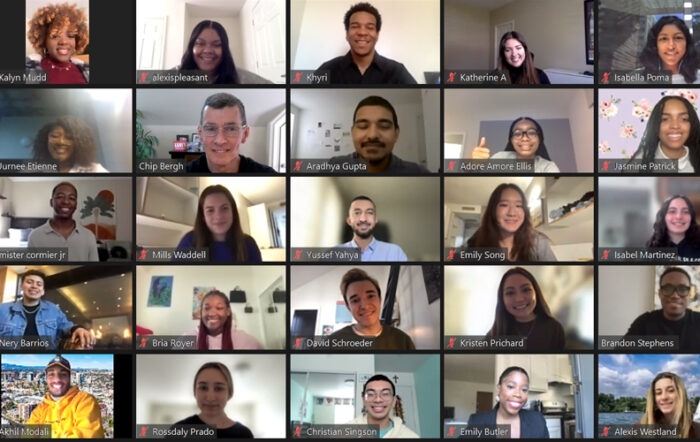 While adjustments were made in the recruiting process, key components of the program remain intact. Selected interns are placed throughout the company, including the branding and marketing, operation and supply chain, product, sales, and technology departments. And the program still includes full-time employment offers to recruits who perform well during their summer internships.
"What I'm most excited about this year is for the company to benefit from all the knowledge coming from these students," said Brandon Stephens, LS&Co's global head of Talent Acquisition.
Ashley Lizana, a 2021 intern who will be returning for full-time employment, said she was particularly impressed by how welcoming and available LS&Co. leaders were to them for conversation and advice. "Getting to meet Chip, the CEO, was really cool," she said. "I felt like the company cared about our work."
Mod Boon-Long, an MBA student at Northwestern University's Kellogg School of Management, found LS&Co. to be the right fit for her after participating in last year's internship program. After she graduates in June, she will return to the company as a global brand strategy manager. What stood out to her during her internship was how generous employees were with their time, assistance and feedback while she tackled new projects.
"I felt like I was truly part of the company," Mod said. "It made me want to come back full time."
The intern class of 2022 is set to begin their career journey at LS&Co. in June.  The campus recruitment team is excited about the diversity that this class will bring to the talent pipeline!