November 10, 2021
The power of artificial intelligence lies in its ability to unlock potential. The ability to free up time spent on tedious tasks while uncovering new opportunities and possibilities. Ron Pritipaul, design coordinator with Levi Strauss & Co. (LS&Co.), was on a hunt to find a new way to further that inspiration process.
For most creatives, inspiration comes from anywhere and anything. The visuals you see on your commute. The iconic pieces of the past. The outlines a shadow create—the options are endless. Ron wanted to take those moments and items of inspiration and turn it into a program that could create countless styling options.
While not a technologist at heart, Ron was very interested in how technology could aid and inspire new ways of thinking within design. His curiosity to learn and develop new skills combined with his problem-solving mindset landed him a spot in LS&Co.'s first-ever Machine Learning Bootcamp, which kicked off in the beginning of 2021. This immersive, eight-week full-time bootcamp trained 40 employees, including Ron, on the basics of coding, machine learning, and agile ways of working.
It was during his time in bootcamp that Ron started to question how he'd actually implement these new skillsets. Designing is fluid and very much a creative process, so trying to think in APIs and from a data perspective was challenging. But Ron questioned his normal design process and developed something that was quite unique — and a solution that he knew would serve his needs as a designer.
Leveraging existing technology, Ron enhanced an existing algorithm to build in a neural network that was designed specifically for garments. This algorithm could define edges of a garment, locate button placements and determine pockets, to name a few, and store that image into one layer for designing.
To test out his algorithm, Ron decided to design a new Levi's® Trucker jacket. For inspiration, he leaned on his passion for art history. The classics came to mind: Van Gogh's Starry Night, David Hockney's Apple Tree, and Jasper Johns' Corpse and Mirror II, among 30-plus other references. Using the same algorithm, the program was able to define various parts of the art pieces — like brush strokes, color, and edges — and with a click of a button, the program could replicate thousands of different design options in a matter of seconds.
With thousands of options to pick from, Ron could narrow down his choices, fine-tune designs and give the process the much-needed creative human influence to perfect the piece. While the ability to create thousands of renderings in a matter of seconds is invaluable, the true beauty of the program is that it can serve up ideas that a designer might not have thought about in the traditional process. This makes AI an especially significant value add for the traditional designer.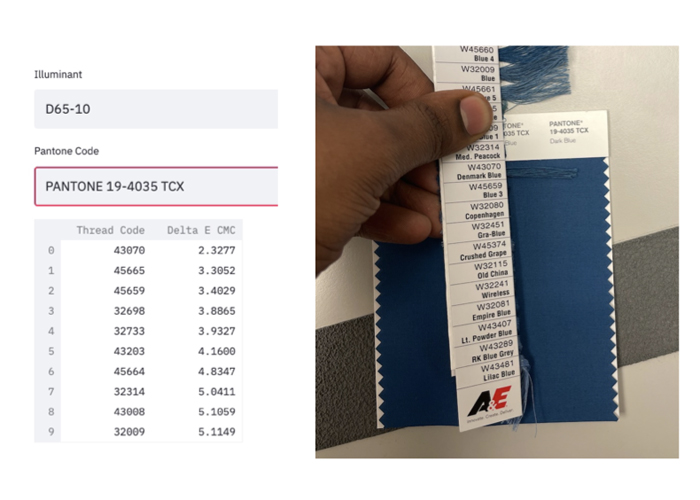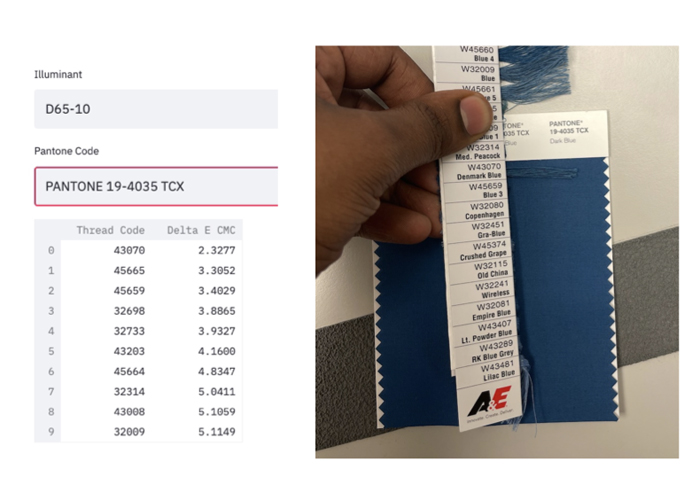 Furthering his new skillsets, Ron also built an app to help himself and fellow designers solve another daily pain point: color matching threads. Designers spend hundreds of hours in the shade room trying to figure out the exact color of a thread—think "Is the thread color actually 43070 or 45665?"
Powered by computer vision AI, Ron's application automates this process and shows results in seconds and with great precision. The process doesn't impact any creative process, but it does eliminate hours of manual labor and frustration.
These innovations are even more impressive considering they came just months after Ron completed the bootcamp. It's the perfect example of how new relationships can be formed with technology that aides and impacts workflows outside of the typical data and AI space.
"Levi Strauss & Co.'s digital transformation relies on AI and AI depends on enabling employees across all facets of the organization to master what technology can do for them," Chief AI and Strategy Officer Dr. Katia Walsh said. "They needn't fear AI but, rather, embrace it. I believe that most people can learn the skills to be a data scientist, and it's up to companies to create opportunities for employees to obtain and apply those skills."