August 30, 2021
As this year's internship program comes to an end, it's safe to say that our 2021 summer interns experienced quite a unique #LifeAtLevi. Comprised of 34 undergraduate and graduate students from all over the U.S., this year's intern class — our most diverse yet — experienced a fully virtual 10-week program.
That didn't stop the internship program team from being committed to showing our interns what life at Levi Strauss & Co. truly looks like. As a summer intern myself, I can 100% vouch for that. Whether it was through coffee chats with CEO Chip Bergh, a brand strategy overview with Brand President Jen Sey and Sr. Director of Brand Operations & Strategy Morgan Duquette, or a session on LS&Co.'s sustainability efforts and practices, we participated in a wide array of events that provided authentic insight into the company's culture, people, and practices.
While bonding through our screens was not the internship experience we anticipated, virtual activities — like solving a murder mystery with our managers or stepping up our chef status through a cooking class — allowed us to connect and get to know each other throughout the entire summer. Albeit being virtual, these events really gave us the space to connect in ways that went beyond our expectations. If you don't want to take my word for it, here's what some of my other intern colleagues had to say on their virtual experiences:
"It was actually great! The virtual setting prepared me for working in an online office space, which I have never had to do before. I got to practice what it was like to work from home and create a work/life balance." – Ashley Lizana, Talent Acquisition Intern
"It has really been one of the best internship experiences I've had, even though it was virtual. I'm really sad it's coming to an end, but I think the connections built with our teams and among the interns will last longer than the timeline of the internship." – Uyen Truong, Design Intern, Men's Non-Denim Bottoms
"The intern program managers went above and beyond to accommodate the current situation at hand. Whether it was through office hours, outback team building activities, or the care packages sent to our homes, our needs and expectations were fully taken care of." – Umaima Memon, DevOps Engineering Intern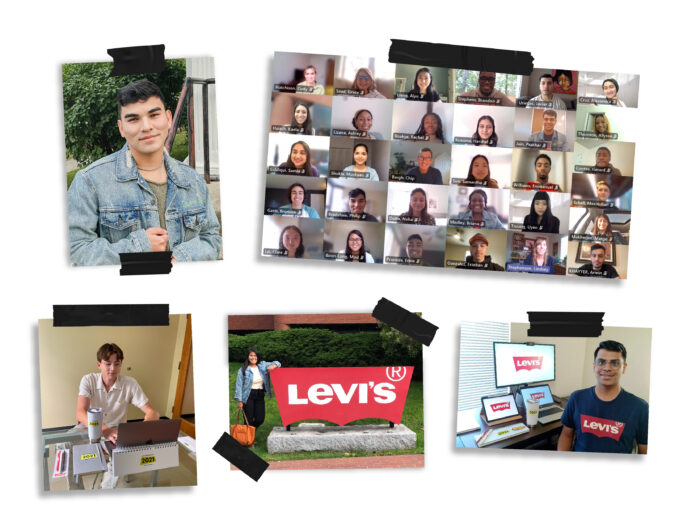 Here at LS&Co., we engage in a full learn-by-doing internship experience. We meet with cross-functional partners, get full insights into the innerworkings of the company and spend the entirety of our 10 weeks working on individual projects and group projects with our fellow interns.
While these projects are a highlight of the LS&Co. internship experience for many of us, they are certainly not the only memorable part of the program.
"Connecting with my fellow interns and coworkers over lunches, coffee chats, and touchbases have been the absolute highlight of my internship. Even though we may be on opposite sides of the country, I can honestly say that I've made friendships that will last a lifetime." – Philip Bradshaw, Product Development & Sourcing Intern
"Each day was a new opportunity to learn, grow, help and inspire, and I gained invaluable insight and knowledge from every person I came in contact with. I'm so thankful to have been able to learn not only about what they do, but who they are and what they value." – Sam Son, Merchandising Intern, Collaborations & Partnerships
"The highlight of my experience was the level of trust and creative freedom I was given from the get-go. It allowed me to learn and grow at a rate I hadn't experienced before." – Esteban Gonzalez, Consumer Marketing Intern
While each of us has spent the last 10 weeks working in different facets of the company, I think I speak for us all when I say one of the biggest highlights of this internship program is coming to know what it feels like to be part of the LS&Co. family.