June 28, 2021
After a yearlong hiatus, Levi Strauss & Co. is excited to officially welcome interns back to our virtual offices this summer.
Thirty-four undergraduate and graduate students from schools across the country — including Morehouse, Spelman, UC Merced and Harvard, to name a few — with a wide range of backgrounds will be spending 10 weeks fully immersed in different teams and organizations within the company, from design and merchandising to data and AI and everything in between. This experience will give them a taste of what working here at LS&Co. is really like.
"This is a program that is very near to my heart, it's something I passionately believe in. I think you are in for a great summer," CEO Chip Bergh told the incoming class on their first day. "One of the things I love about the intern program is it's basically a three-month interview. You get to see the good, the bad and the ugly of this company and you get to experience everything.  And, for ten weeks, we get to see you in action.  At the end of the day, when you think about your career, one of the most important things you can do is find a place where you feel there is a good fit."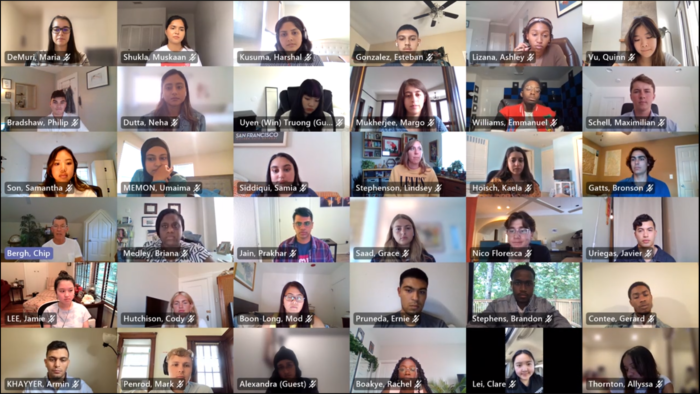 This year looks a bit different than past years. For the first time ever, we've taken our internship program 100% virtual, giving interns the opportunity to learn crucial new skills in the post-COVID-19 workplace, like virtual presentation delivery, collaboration tools and network building while remote. Along with their day job, interns will also be participating in a robust schedule of virtual activities to help them get to know the company. These include meeting with groups like our Diversity, Equity and Inclusion (DE&I), Strategy and AI, and Sustainability teams, and getting deep dives on our brands, our Red Tab and Levi Strauss foundations and marketplace insights. They'll also be assigned group projects designed to address broad business challenges, which they'll present to the Global Leadership Team.
The summer 2021 intern class is also our most diverse class yet, with 85% of the interns coming from diverse backgrounds. This is a crucial next step in our commitment to hire and elevate diversity at LS&Co.
"It is extremely important that we have diverse representation in our internship program," said Brandon Stephens, head of Diversity & University Recruitment at LS&Co. "It is one of the best things we can do to make sure that we build a robust pipeline of diverse, qualified candidates. This program gives them the hands-on experience and skills they need to be successful here at LS&Co. and prepares them when applying for open roles."
Welcome, interns! We're excited to have you join us. And learn more about our internship program now.