December 14, 2020
COVID-19 continues to affect regions around the world, with Europe navigating a second wave in recent weeks and cases continuing to rise in the Americas. We talked with Brady Stewart, Managing Director of U.S. DTC, and Jeremy Leaf, Vice President, East Europe, to learn more about how Levi Strauss & Co. is approaching this latest wave as a business and ensuring the health and safety of our employees and consumers around the world.
What is the current COVID-19 situation in your region?
Jeremy: The situation is very fluid, and we're constantly reviewing restrictions in all countries, as there are large differences in each country and even regions within countries. Russia and Turkey have largely remained open, with consumers able to go shopping and malls staying open with some restrictions. Poland and the Czech Republic, on the other hand, have been in full lockdown, with only essential stores open until restrictions were eased in early December, and Greece is still in a lockdown.
Lockdowns have started easing across the region, however, and so of December 7, we've been able to reopen 95% of our stores.
Brady: In the U.S., cases are spiking across the majority of the country, with hospital capacity filling and hospital workers tiring. Each state is taking different actions in response, with many introducing new stay-at-home advisories that include mandates for face coverings, curfews that are city or state-wide, and restrictions on gatherings and business operations.
In California, the regional stay-at-home order (which limits retail stores to 20% capacity, in addition to other restrictions) will go into effect if a region's intensive care unit capacity is at or dips below 15%. Three regions currently meet this threshold, and five counties in the San Francisco Bay Area  have proactively enacted the stay-at-home order through January 4.
Latin America was also hit hard by coronavirus, especially Brazil and Mexico. Experts are hopeful that with the Southern Hemisphere experiencing their summer that more people will be outside and the spread may slow, but there are longstanding economic impacts and recessions across the region.
Canada surpassed 450,000 confirmed cases of COVID-19 and is experiencing its highest number of new reported cases by day since the pandemic began. Some provinces and regions are issuing stay-at-home orders and lockdowns, including Toronto and Peel (which are in four-week lockdowns), requiring us to close stores and exclusively offer curbside pick-up. And, while not in a full lockdown, areas of Quebec and Alberta with elevated case numbers are implementing new capacity limits in stores.
How are you and your teams approaching the latest COVID-19 wave?
Brady: In all regions around the globe, the health and safety of our employees and our consumers comes first.
We need to remember that our region is large and that the transmission of COVID-19 is relatively localized and different in each city, county, state and province. We are paying close attention and working with a skilled tiger team of LS&Co. leads, external epidemiologists and doctors as well as listening to public health officials and local governments to guide our decisions around store closures. Together, we monitor all government mandates as well as available health and safety statistics and internal readiness to make sure all decisions are made consistently with our company values.
The decision to close stores is not taken lightly; we know the heartache that each store team experiences when we need to close. While we are devastated that there are additional COVID-19 waves, we are prepared because we have done this before and our store employees know what to expect.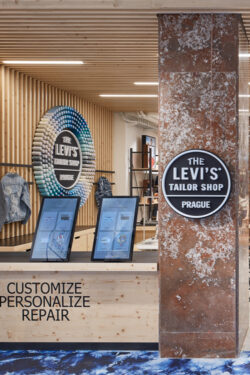 Jeremy: The protocols we put in place during the first wave have proved to be very robust, and we're following the same path now.
Our corporate teams are working remotely where possible, with only a few going into the offices for essential business needs. We've also increased safety measures for our frontline teams. We have adapted staff schedules and implemented two-shift teams where possible in our store so that our teams can isolate if we should have a case, reducing the risk to the larger team. Additionally, our Plock factory in Poland is operating with strict safety measures in place that have been reviewed and approved by local health authorities, including employee temperature scanning and PPE for employees and frequent cleaning. We've also reorganized working spaces to allow employees to social distance, and reorganized our delivery and shipment protocols.
Is anything different with this wave versus the first wave?
Brady: The biggest difference is the access to information. In March, we were still learning what coronavirus was, how it was transmitted, how contagious it is and what actions people could take to prevent it. We now have the benefit of education and information.
When this initially began, we were simultaneously grasping the severity of the disease while creating a playbook on how to assess and close stores. We were also expediting our existing omnichannel initiatives and even launching new ones, like buy online, pick up in store, ship from store, curbside pick-up, same-day delivery, virtual stylist appointments and line management tools. Now we are leaning into these omnichannel capabilities. They allow us to keep our business running and our employees safe and able to work, and allow our consumers to access our brand where and how they want to shop during these unprecedented times.
How are you supporting your teams on the frontlines?
Jeremy: Both our corporate and store teams have been clear on their need for communication, so that's been a key priority for us. Our communication starts with regular updates from CEO Chip Bergh and Seth Ellison and continues through to weekly meetings at the store level. This really sets us apart from other companies, and the teams really appreciate hearing what's happening and what we are doing.
Frankly the response from all the teams has been amazing. Everyone has been supporting each other where possible, which has been wonderful to see. I can't thank them enough.
Brady: We are in constant communication with our teams to ensure they have all the necessary tools to be successful and that they feel supported and safe. We have also implemented several protocols in our stores designed to protect the health and safety of our teams. These include requiring everyone — both employees and consumers — to wear a mask as well as frequent cleanings and occupancy reductions. With our occupancy limits, we have decided to not exceed 50% capacity in any of our stores, even in markets that have fully reopened, so that we are able to practice physical distancing in our stores at all times.
Words cannot express how grateful we are for our frontline employees' dedication, tenacity and spirit. As a small sign of our gratitude, we gave all our retail store and distribution center employees in the U.S. Thanksgiving Day off. Earlier this year, we also introduced paid sick leave for our U.S. part-time hourly retail employees, which will continue even after the pandemic subsides.
I would also like to give a shout out to our store teams who have been so incredible during this entire pandemic and period of many unknowns. Since the start of the pandemic, our main goal has been to "control the controllables" and they've done just that. I'm so proud to be part of this team!