September 7, 2020
Levi's® recently celebrated the opening of its second beacon store in China last month, located in the heart of Shanghai's popular shopping district on East Nanjing Road. The store is not only the brand's pinnacle shopping destination in China, it will also be its first retail location to be LEED-certified in the market.
The Levi's® beacon store will set a new benchmark in green retail for the brand as the first store in mainland China to be certified LEED SILVER. The achievement will be the culmination of the sustained, concerted efforts of the Levi's® team to create an immersive retail experience for consumers that is also better for the environment. From incorporating eco-friendly features and technologies into the store's design and construction to sourcing the most sustainable materials, attention will be given to ensure its environmental friendliness. The store will join Levi Strauss & Co's existing list of LEED certified locations, including LEED PLATINUM Sky Harbor Distribution Center in Nevada.
"LEED is a globally recognized standard for excellence in the environmental performance of a building," said Liza Schillo, senior manager, Sustainability. "When you walk into our Shanghai store, you know we took extra care to ensure the health of our customers and the environment were primary considerations."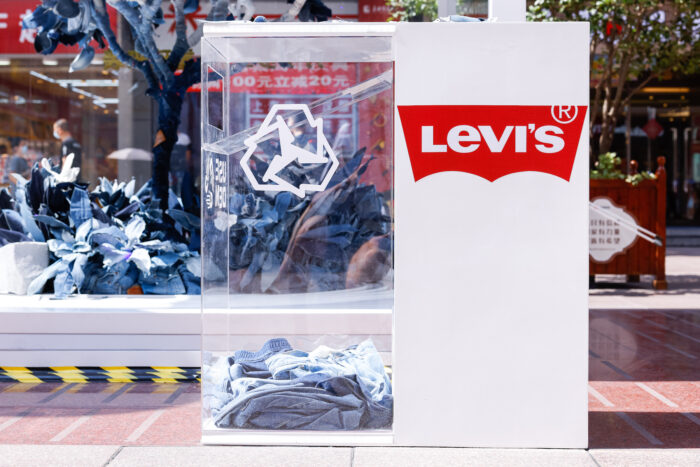 As part of the certification process, the Shanghai store is being evaluated across the following criteria:
Energy use: using highly efficient VRV system and energy star equipment
Efficiency of water usage: partnering with the landlord to use water-saving appliances
Quality of indoor environment: providing a healthier environment for partners and consumers than the outdoor environment and better ventilation flow through the use of advanced air filtration systems according to ASHRAE standard
Sustainable materials and resources: sourcing local and recycled content material for the design and construction of the store
As the brand significantly expands its business in China, it wants to lower its carbon emissions and demonstrate that commitment to its partners and consumers in the market. The insights gleaned from the Shanghai store's certification will provide guidance on how the brand executes its store design, construction and operation through its next NextGen store concept in China.
"LS&Co.'s commitment to environmental and social good comes to life through LEED: water and energy savings, sustainable material choices, and indoor air quality considerations have been woven into the customer experience," Liza said. "In doing so, we hope our fans will consider their own environmental footprint and join us in our journey toward a more positive tomorrow."