May 11, 2020
Bart Sights, vice president of technical innovation at our Eureka Innovation Lab, often says that Eureka is now as much of a spirit as a physical structure. What better way to demonstrate that idea – and the commitment to redefining how jeans are made – than by continuing to bring forth radical innovations that make us a better company even as we navigate a new shopping normal in light of the current Coronavirus pandemic.
One such innovation is a new digital technology that allows for photo-realistic digital 3D renderings of denim and apparel samples. This allows for the ability to design and display new finishes and age-old classics alike without having to make or ship any physical samples. That in turn can save resources and dramatically cut down our go-to-market lead times.
Bart walked us through the concept:
What it is. Technology for digitally rendering denim garment samples. Building on the potential for an end-to-end digital production platform first hinted at by Project F.L.X., the Eureka team successfully created the technological tools to build photo realistic 3D renderings of denim garments/samples for use in our operations and with customers.
What it does. This allows us to digitize the sampling process, meaning we don't have to make and ship physical samples and that we can dramatically reduce our go-to-market (GTM) time.
In other words:
A process that took many months can now be done in a much shorter time frame
This advances our efforts to get closer to the market and our ability to stay on trend
Now we can make what we sell (flipping the model of selling what you make), which will help us realize huge savings in fabric and resource use, as well as costs associated with physical samples
Over time, it should lead to a reduction in overall inventory as well, because we'll know what people are buying and can respond to that in near real-time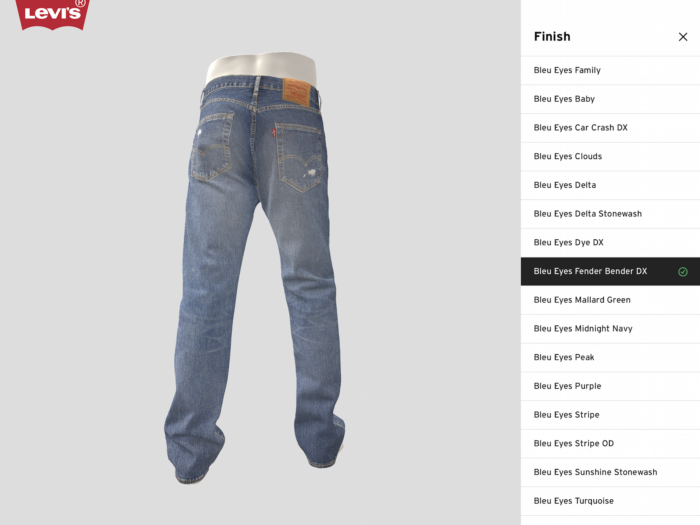 Taking an innovative approach to new tech. This didn't come from the usual suspects – a tech company – it came from us! It's the result of years of investment and research and development at Eureka, very much tied to the vision [CEO Chip Bergh] had when he moved Eureka back to the U.S.
With this technology, we can move much faster through the design and sampling process and then pivot from design immediately to production. We're already using it in a number of ways like with the Future Finish customization option on levi.com, with our recent instillations at the Miami Haus and through our customer relations where we can now sell product based on these images rather than physical samples.
A demonstration of innovation in action. Eureka was set up as an innovation center with the mission of showing us how we could redefine how jeans were made. That's how we hit on Water<Less®, Screened Chemistry and Future Finish, working with teams across the company to change the future of denim apparel. This is another great example of how that investment in innovation pays off.
We have the right team for it, too. I believe in diversity of thought, so those working on our innovations are diverse in backgrounds and skills. This is vital to being able to create things like this. The magic in culture comes from a diverse team put in an innovative environment that allows for failure, is built on trust, and encourages people to build each other up in a family-orientated, fully collaborative atmosphere – even when we can't all be together in the same physical space.
Innovations that allows us to grow, thrive, and improve operations. We now have this capability that can change a major part of the business, and it addresses a long-time stumbling block in ways that makes us quicker to market, more efficient, reduce inventory needs, and position us for a better performing future.