November 12, 2019
At a time when online shopping is booming and wholesale retailers are closing doors, it takes creativity to elevate the shopping experience enough that consumers will get off the couch and into stores. So, when the Levi Strauss & Co. Canada team sat down with our partners at Hudson's Bay Company (HBC) to come up with their next big idea for growing the business, they decided to create something new: the Levi's® Indigo Lounge.
Levi's® Indigo Lounge pop-up shops appeared in flagship HBC stores in Toronto, Montreal and Vancouver for eight weeks from July through September. Located on the ground floor in each store, the lounges were decorated in Levi's® branding and featured both men's and women's products. In addition to HBC staff, designated sellers and stylists were onsite to help consumers learn more about our products and which ones would fit them best, directing them to the Levi's®-branded elevators so they could visit other locations in the store for more Levi's® products.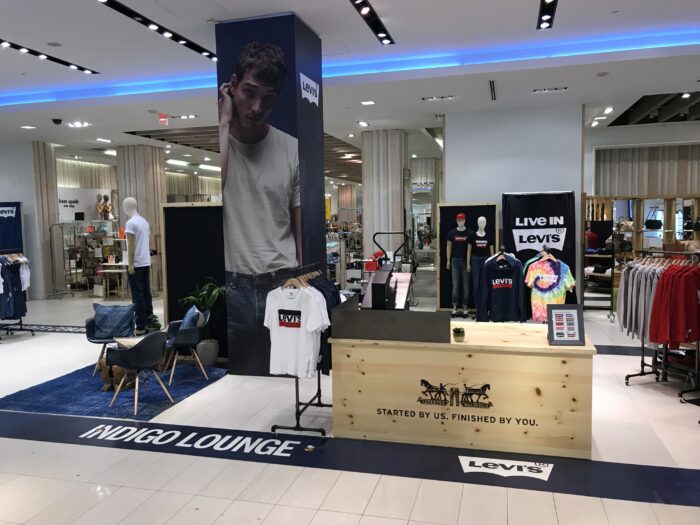 Various events were held in the lounges throughout their five-week run, including T-shirt customization with T-shirt presses, gifts with purchase, free customizations in the Tailor Shops and more. Additionally, for the first time ever, HBC exclusively featured Levi's products in five branded windows.
"It was really about getting consumers excited and creating a reason for them to visit the stores," said Jill Ryckman, senior account executive for Levi's® men's and women's for HBC.
HBC has good reason to have confidence in the team's work — the Levi's® Indigo Lounge pop-ups and the Levi's® Men's & Women's shops delivered fantastic results, proving to be a win-win for the three flagship locations across Canada.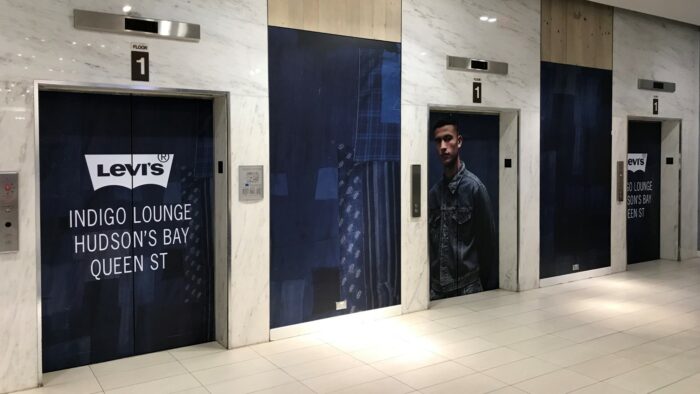 "The fact that we were able to do this is proof of the strength of the relationships we have and our ability to marry mutually beneficial programs for the joint objective of growing our business" said Nic Versloot, Managing Director for Canada.
Now that their run has officially ended, the Canada team is looking into how to leverage the Levi's® Indigo Lounge concept in new ways in 2020. In the meantime, parts of the Levi's® Indigo Lounges live on, thanks to the team's sustainability work.
"Instead of throwing everything away, the team was able to repurpose the lounges' chairs, carpets and accent pillows and use them to take over a women's fitting room at our mainline flagship store — Toronto Eaton Center and make it the Levi's® fitting room," said Tiffany. "It's the gift that keeps on giving."