July 31, 2019
This month, a coalition of business, civil society and UN leaders kicked off a new pledge and call-to-action campaign asking businesses to step up their climate actions to match the ambition and urgency called for by the Intergovernmental Panel on Climate Change (IPCC), touting Levi Strauss & Co. and others for being first-movers.
One year ago today, we set our own Science-Based Targets for reducing carbon emissions in our owned-and-operated facilities and across our global supply chain. By setting these targets LS&Co. committed to doing its part to mitigate climate change, in adherence with the Paris Agreement and the Science-Based Targets initiative (SBTi). Now, a year later, we see that these targets, which are aggressive in their timeline and aims, are helping to set the standard for carbon emission reductions across the apparel industry and beyond.
"We have less than 11 years to fundamentally change our economies or we will face catastrophic consequences," said Lise Kingo, CEO & Executive Director of the UN Global Compact, one of the member organizations of the SBTi. "For the first time, we are seeing business and climate leaders coalesce around a common call-to-action, sending a powerful signal that science-based target setting presents a significant opportunity for businesses to step up when it comes to tackling climate change and limiting global warming to 1.5 degrees Celsius."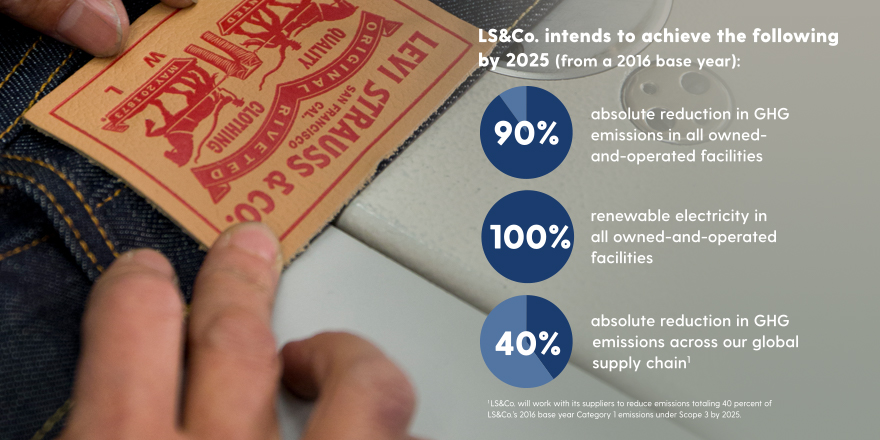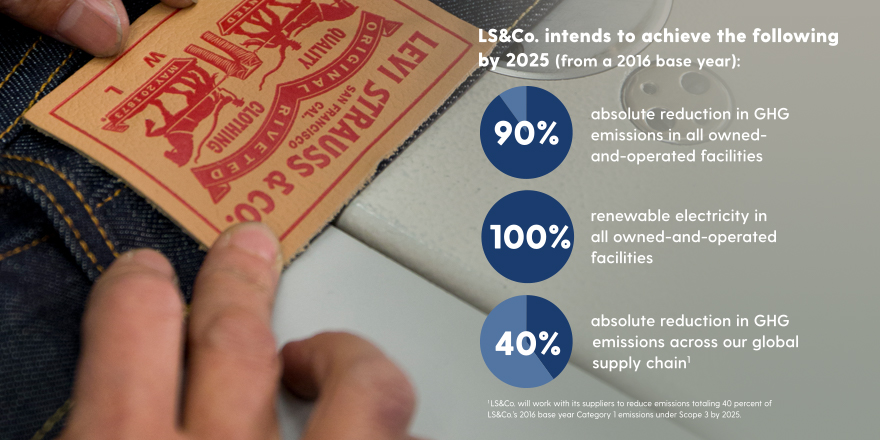 Over this past year, we've taken several actions in pursuit of our climate strategy.
Last December, LS&Co. committed to the UN Fashion Charter for Climate Action, joining various leading brands and industry stakeholders to chart a path to decarbonization.
In May, we joined with 75 companies, calling on Congress to pass meaningful climate legislation, including placing a price on carbon emissions. We also supported the passage of legislation in Nevada, home to our Sky Harbor distribution and agility center, that would set the state on a path to achieve its 2025 and 2030 emissions reductions targets and net zero emissions by 2050.
In June, we signed a $2.3 million cooperation agreement with the International Finance Corporation (IFC), a member of the World Bank Group, to help us meet our corporate sustainability objectives to reduce Greenhouse Gas (GHG) emissions and water use in our supply chain.
Our owned-and-operated factory in Plock, Poland recently received an award from the Polish National Energy Conservation Agency (KAPE) for implementing major initiatives to reduce the environmental impact of the factory as part of our 2025 target goals. The plant team has concentrated its efforts over the last several years on water usage in the production cycle, carbon emissions, energy consumption and chemicals.
As sustainability leaders gear up for the UN Climate Action Summit on September 23, look for other companies to follow suit and look to our targets as one of the best examples on how to take real climate action.