November 16, 2018
The Levi's® brand is taking a much bigger bite out of the Big Apple.
At 16,902 square feet, Times Square is now home to the world's largest Levi's® flagship store, a multi-level location offering the very best in store design, product assortment and omni-channel capabilities. It is the sixth Levi's® store in New York City and replaces the previous Times Square Levi's® store, which officially closes today.
The new store in the heart of New York City offers the largest Levi's® product assortment under one roof with Levi's®, Levi's® Premium, Levi's® Made & Crafted, Levi's® Vintage Clothing, Levi's® Authorized Vintage, Levi's® Collaborations, Accessories, Footwear, and Kids as well as hyper-local Levi's® product only offered at this location. Shoppers will find a seamless experience with mobile points-of-sale and associate-assisted ordering, larger dressing rooms with convenient call buttons, comfortable seating, a bright atmosphere, and sustainable design elements throughout, including store hangers manufactured from 100 percent recycled jeans.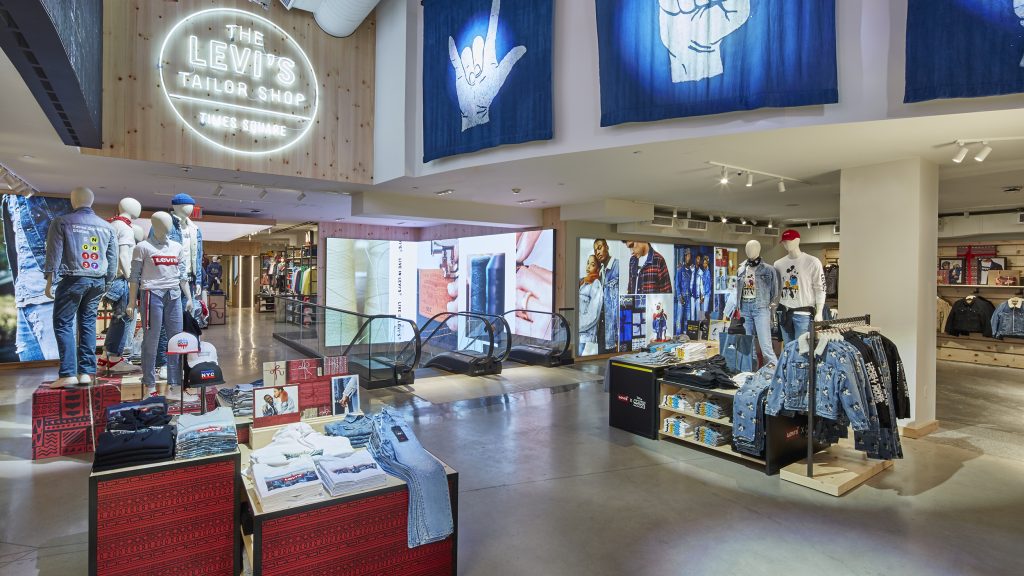 "LS&Co. is focused on bringing a highly personalized shopping experience to the consumer and this new, larger-format store embodies the brand's bold stature and vision. This flagship offers the most expansive product assortment and brings to life our brand story with a theater-like expression," said Roy Bagattini, Executive Vice President and President, Levi Strauss Americas.
An unparalleled Tailor Shop experience
Home to the largest Levi's® Tailor Shop in the world, the Levi's® Times Square flagship offers consumers the most comprehensive customization options to date with four on-site tailors and direct-to-garment (DTG) printing capabilities. With iPads and tailors staffing the shop from open to close, consumers can access a breadth of options — including preloaded photos, images, logos and text designed by local New York artists — to craft the perfectly customized piece. Debuting with four New York-based artists:  graffiti artist Futura, urban photographer 13th Witness, graphic designer Happy Noise and visual artist Cey Adams, the Tailor Shop will feature custom pieces and exclusive designs available for a limited time.
"By featuring the largest Tailor Shop in the fleet, the Levi's® Times Square store responds to consumer preferences for personalized and customized product as part of a unique, engaging shopping experience," Roy said.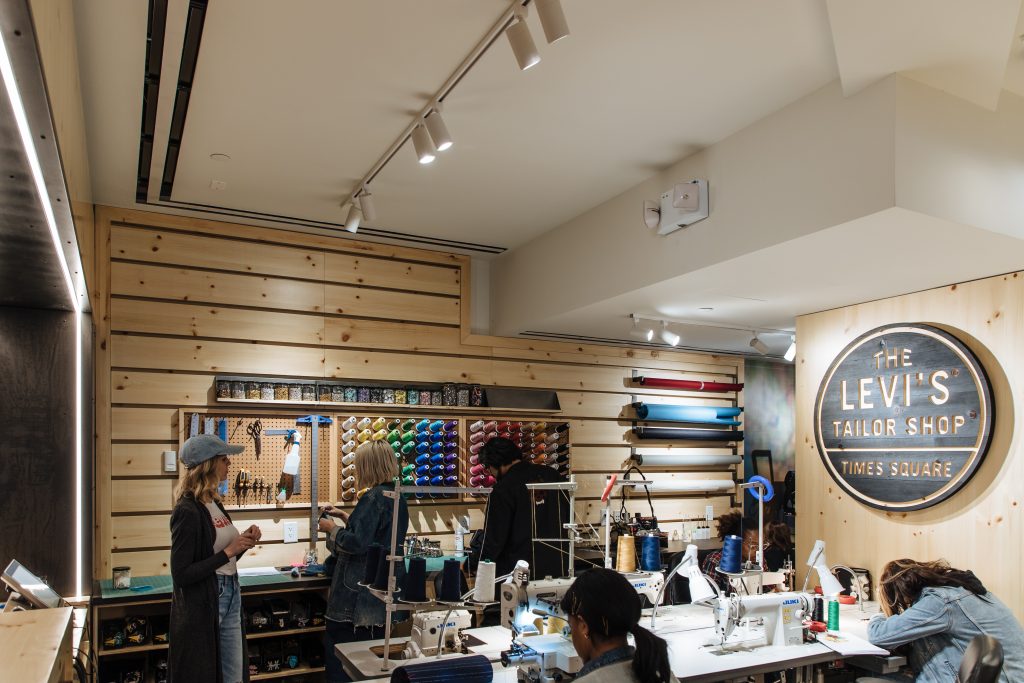 Accessible everywhere
Can't make it to NYC? The Levi's® brand is piloting a virtual 360-degree store experience where consumers can tour the store via the Store Finder tab found on levi.com. By clicking on store hot spots, they can learn more about the store, check out the Tailor Shop or browse the assortment of 501®s, 711s, trucker jackets and other products inside.
While the store will bring a definitive, center of culture experience to the more than 50 million people who visit Times Square each year, it will also serve as a newsroom. It will host Extra! TV for a year-long in-store residency that kicks off this week and continues with weekly celebrity and pop culture news broadcasts from their on-site locale.
"Levi's® is an accessible, inclusive brand that inspires consumers from all walks of life. Both Levi's® and Times Square are cultural institutions, replete with history and stature, so the brand and location pairing makes perfect sense," said Jen Sey, Chief Marketing Officer for LS&Co. Global Brands. "Our direct-to-consumer and global marketplace strategy continues to pay off as we continue to invest in truly unique consumer experiences that emphasize customization, denim leadership originality and the authenticity that only Levi's® can claim."