January 15, 2018
Levi Strauss & Co. encourages employees to take five hours a month of paid time to volunteer in their communities. To commemorate the Martin Luther King, Jr. Day of Service, we are highlighting how one employee, Lex Martinez, uses that time.
At Creative Growth Art Center, Lex Martinez found a lot more than just a way to spend her volunteer hours.
The Oakland nonprofit serving artists with developmental, physical and mental disabilities has become a place where Lex, an assistant merchant on the global accessories team here at LS&Co., goes to de-stress and be inspired.
"I'm not a creative person at all, which is why I like going there — to be surrounded by creative people," Lex said. "It's easy to get lost in the day-to-day grind. Spending time with the people at Creative Growth inspires and re-energizes me.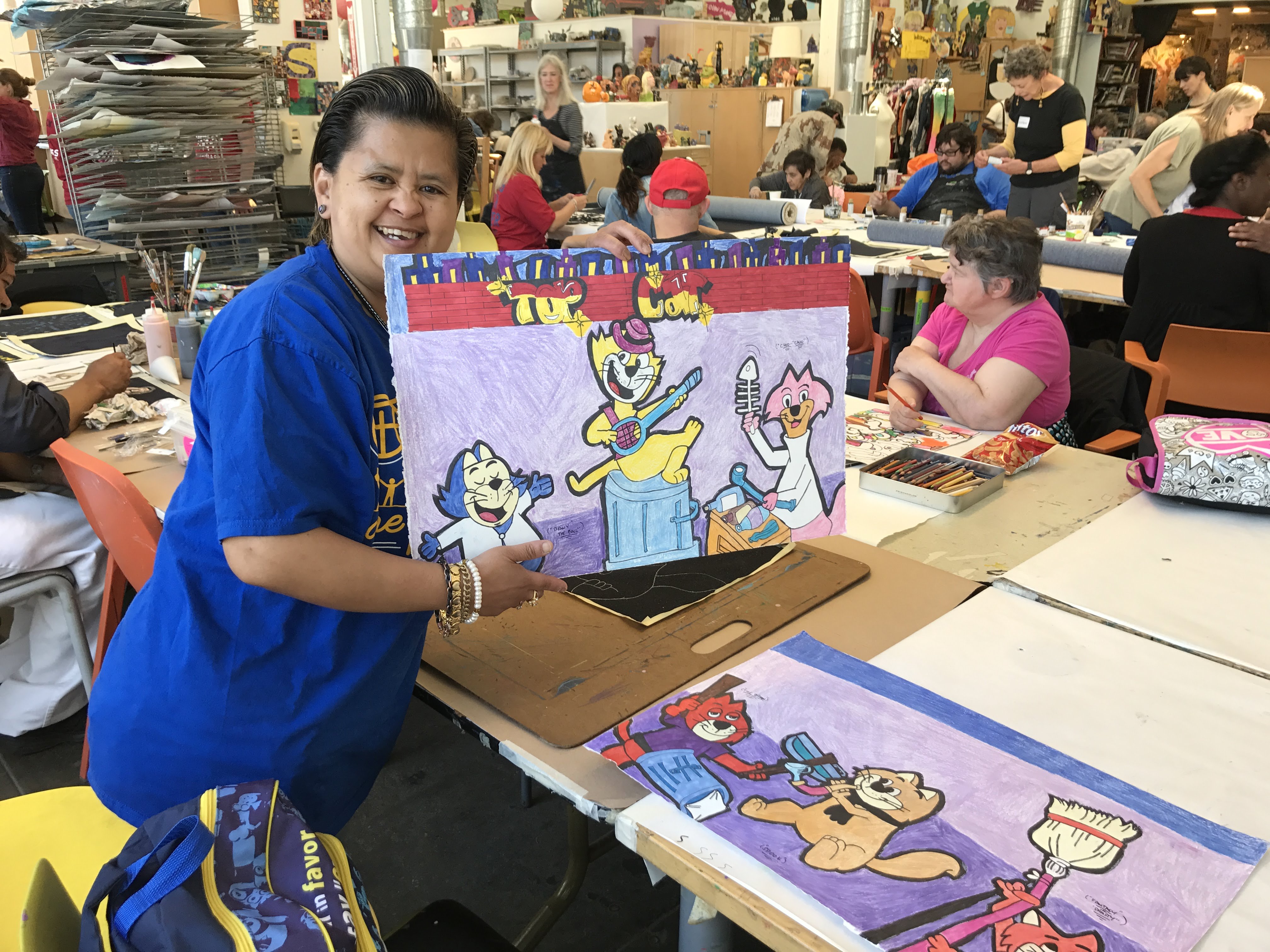 "There are really some talented and skilled artists there, and it's amazing to see what people can do," Lex said.
More than just a cool art gallery or workspace stocked with materials, Creative Growth offers its artists representation and promotion, leading some careers to take flight. Founded in the 1970s in a residential garage in Berkeley, it's the first and longest serving nonprofit of its kind.
Lex started volunteering at Creative Growth more than a year ago when an LS&Co. manager encouraged her team to get more active in the community. Since then, Lex has become an ambassador to the organization, enlisting other employees to volunteer time to various projects and thinking up ways for the company to be of value to the organization.
For one fundraiser, Levi's® sent Creative Growth spare sample accessories, including tote bags and wallets, that the artists decorated and sent back for a silent auction at LS&Co. The money raised was split between the artists and the nonprofit.
"It was a fun way to educate people here about the gallery, who they are and what they do," Lex said.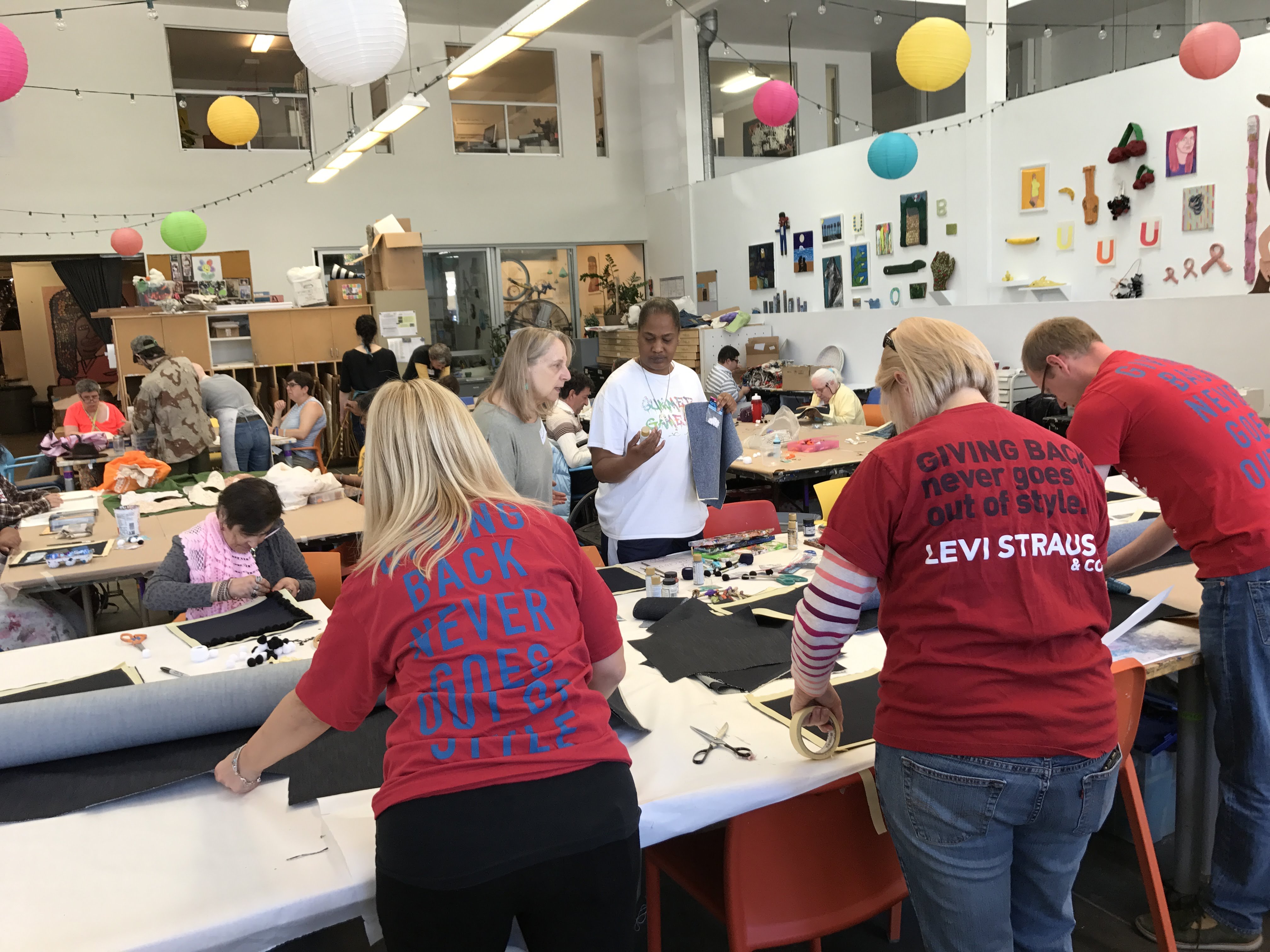 On Community Day, LS&Co.'s annual day of service, a team of employees went to the studio to work alongside the artists. They turned Levi's® scrap materials into a collaborative work of art that was donated to a sale for the gallery – with all proceeds benefitting the artists.
And to commemorate the 50th anniversary of the Type III Trucker, Creative Growth artists customized jackets that were showcased at the Bay Street/Emeryville Levi's® store. It was but one more way to showcase the great work Creative Growth artists produce.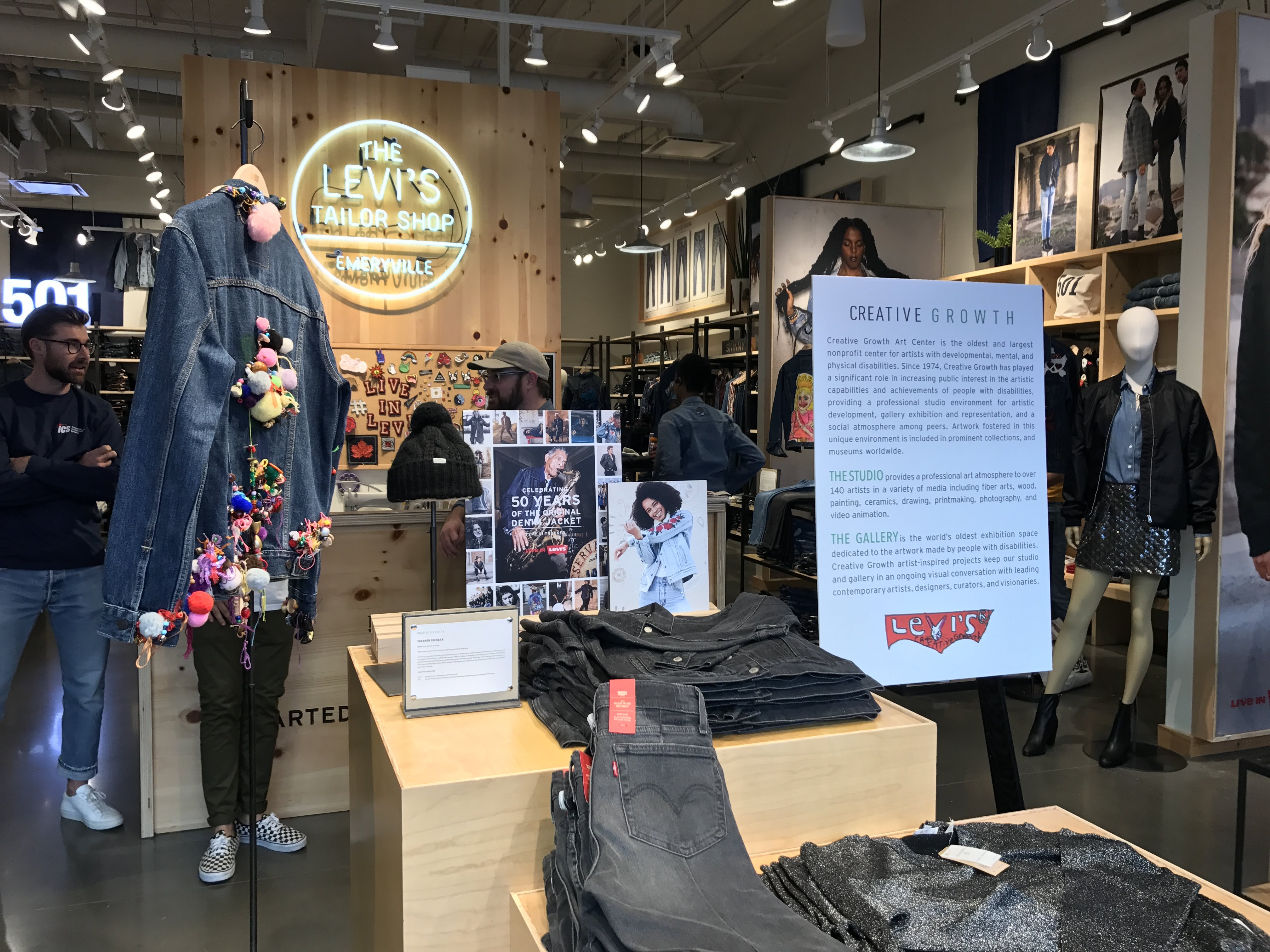 Lex said she said she would like to see more of her co-workers get involved – if not at Creative Growth, then another worthwhile nonprofit.
"I don't feel like people take advantage of the five hours," Lex said. "It's a very rare and lucky opportunity that we have. I want to make sure everyone knows about it because nonprofits can really benefit from it.
"For me, it's been a great side project that's led to new friendships," she said. "It's definitely been an amazing experience and one I want to continue."