June 5, 2017
We are nothing without our people. The people who are driven each day to build upon the long legacy of Levi Strauss & Co. Since 1873, our jeans and those who contribute to their design and production have been an inspiration — and a symbol — for unwavering originality. We're 'In Good Company.'
Byron Thayer has a pretty simple explanation for his 5-year-old son about what dad does at work: "My job is to turn off the faucet after we make the jeans."
It's an easy concept to grasp for a boy whose understanding of "sustainability" involves turning off the water when he's done washing his hands.
It's also a good place to start talking about the many hats that Byron wears on the Sustainability team here at Levi Strauss & Co., where he manages our water strategy — a crucial role for a company staunchly committed to whittling down its considerable water footprint.
Byron and the Sustainability team look at all stages in the lifecycle of a pair of jeans — from cotton growing to manufacturing to consumer care — to identify ways to reduce water use.
Byron also manages a team that collects sustainability data and advises on topics around climate change.
"It's super engaging and fun, and I can talk your ear off about water," he said.
Most people try to leave their work at the office, but Byron's passion for sustainability is definitely not something he checks at the door. He's the guy usually passing on the red meat at the barbecue because he knows how much water it takes to get that steak on your plate. "You can make a turkey burger taste pretty darn good if you do it right," he quips.
He's also the dad who tries to make sustainability "cool" by instilling a sense of wonder about the natural environment in his two young sons. It's a trait he's taken on the road through his volunteer work in schools, teaching the Project WET curriculum to educate students on the importance of water to the planet and how they can change their daily behaviors to save every drop.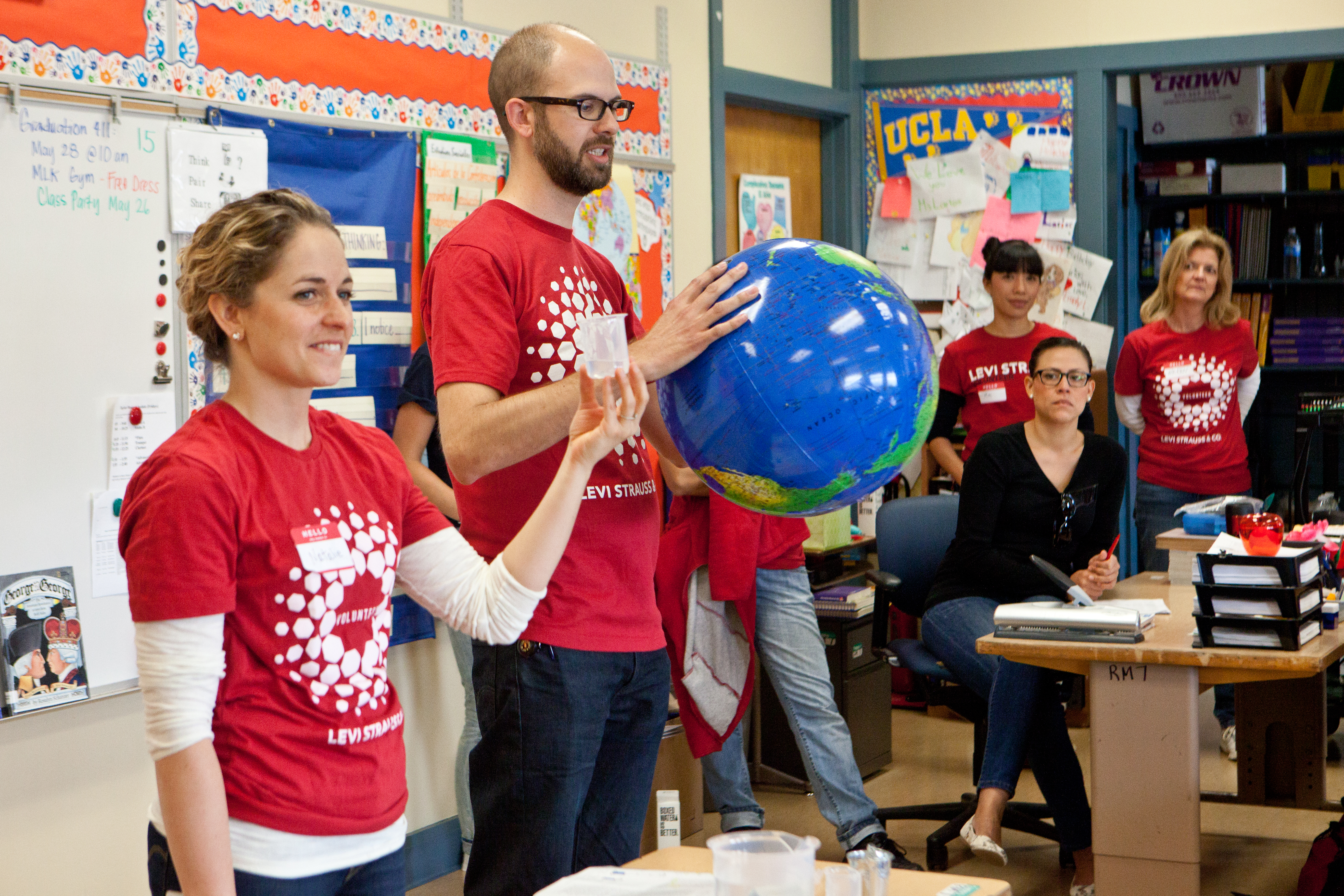 Anthropological Roots
Although he's always been an environmentalist at heart, his career path took some detours before arriving at corporate sustainability.
There was the time he spent living with a family of shamans in Ecuador, and his stint exploring pest exterminator culture in Minnesota — both part of his undergraduate studies in cultural anthropology.
After a foray into market research, where he discovered a passion for green supply chains, Byron went on to study corporate environmental management in graduate school — a departure from many of his classmates, who wanted to work for the Environmental Protection Agency or environmental nonprofits.
"I wanted to get stuff done," he said. "I knew I wanted to work in a company that had a supply chain, because that's where the environmental impacts come from."
Those early lessons in analyzing how subcultures operate have also proved invaluable in navigating the corporate world.
"It helps in any situation to talk less, listen more, ask open-ended questions and let people give their full opinions. Those are very simple things that will serve anybody well."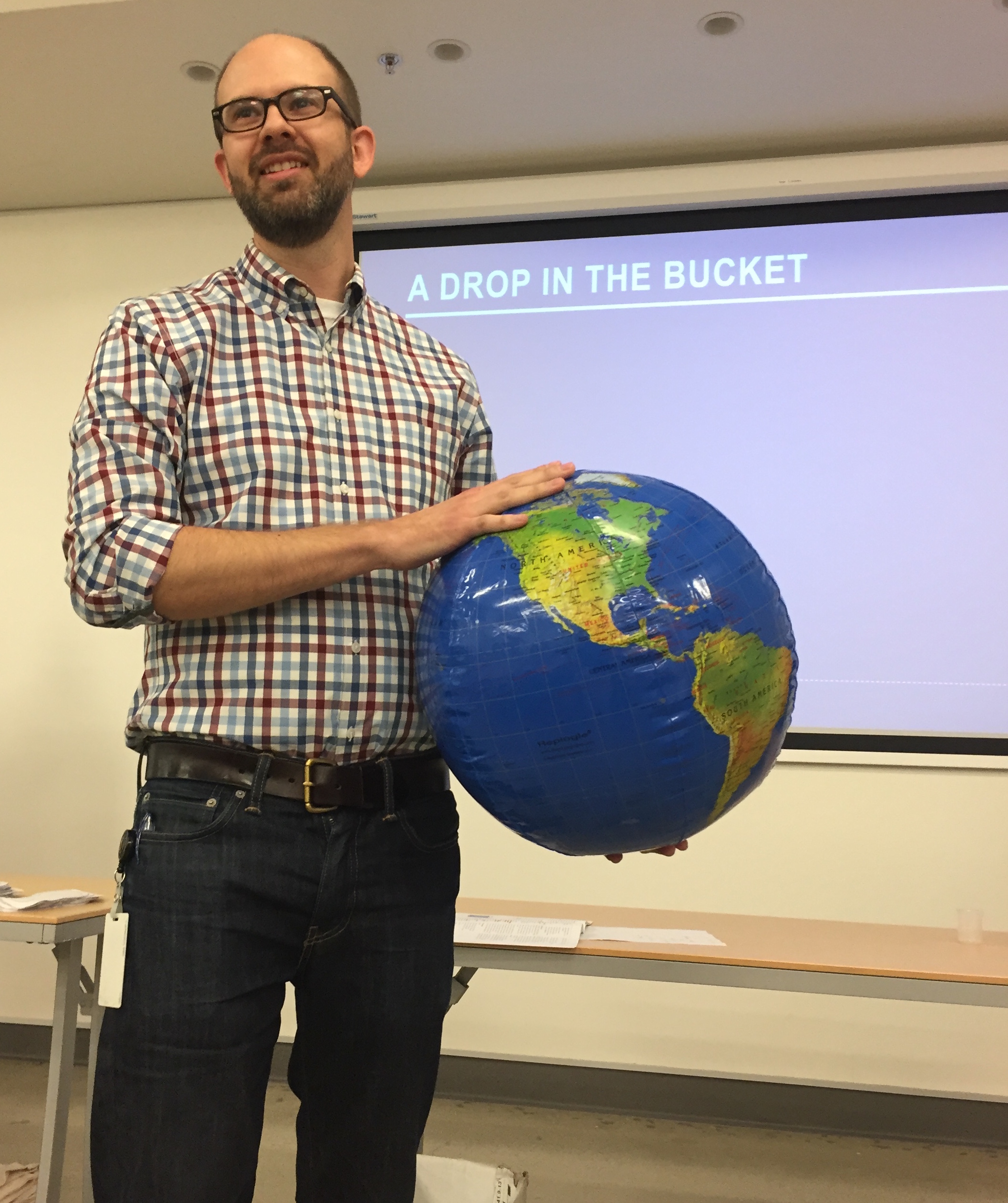 A life lived in Levi's®
His job is chock full of data, so it's not surprising that when Byron wants to highlight the importance of water, he turns to a number: 3,800 liters. That's how much water is consumed in the lifecycle of a single pair of 501® jeans, from the cotton fields where the fibers are grown to the washing machines where consumers launder the finished product.
"I like to remind people that water is a raw ingredient to make our product. If you think of it that way, saving water is no longer just a philanthropic endeavor," he said. "No water, no jeans."
And "no jeans" is not an option for Byron, who estimates that he has probably worn Levi's® almost every day of his adult life. In fact, he didn't have to make a single wardrobe purchase when he started his job at LS&Co.
"My wife and I were doing the usual routine of, 'Let's look through your closet and figure out what clothes you need to buy because you're starting a new job,'" Byron said. "And we realized, you're set! You don't have to buy anything else — all you have is Levi's! Great. Done."
Looking Ahead
These days, Byron is most enthusiastic when he is talking about taking LS&Co.'s sustainability strategy beyond simple mitigation. Reducing environmental impacts is great, but what if the company could find ways to actually leave the world better off?
It's that mindset that has led to solutions like a series of innovative finishing techniques we call Water<Less®, which can save up to 96 percent of the water in the denim finishing process. We've since gone a step further by open-sourcing our Water<Less® processes — making them publicly available to others and encouraging other denim companies to use them.
"The company has a really strong legacy of sustainability," Byron said. "It's stuff that I truly am happy to tell my friends about, from being the very first company to create a code of conduct for our factories to our industry-leading chemical management program. That's leadership."
And that's a legacy Byron is proud to be part of.
Like this story?
Sign up for the Unzipped newsletter to get the best of the Unzipped blog — company news and views, employee profiles, innovation and sustainability stories, behind-the-scenes and Archives highlights — sent straight to your inbox weekly.