October 18, 2016
Throughout this month we are highlighting the first class of LS&Co. Collaboratory fellows. These 10 next-generation apparel leaders are making an outsized impact on their communities. These fellows are joining us this weekend at the Levi Strauss & Co. headquarters for an exclusive workshop to expand their commitment to sustainable practices and reducing their water impact.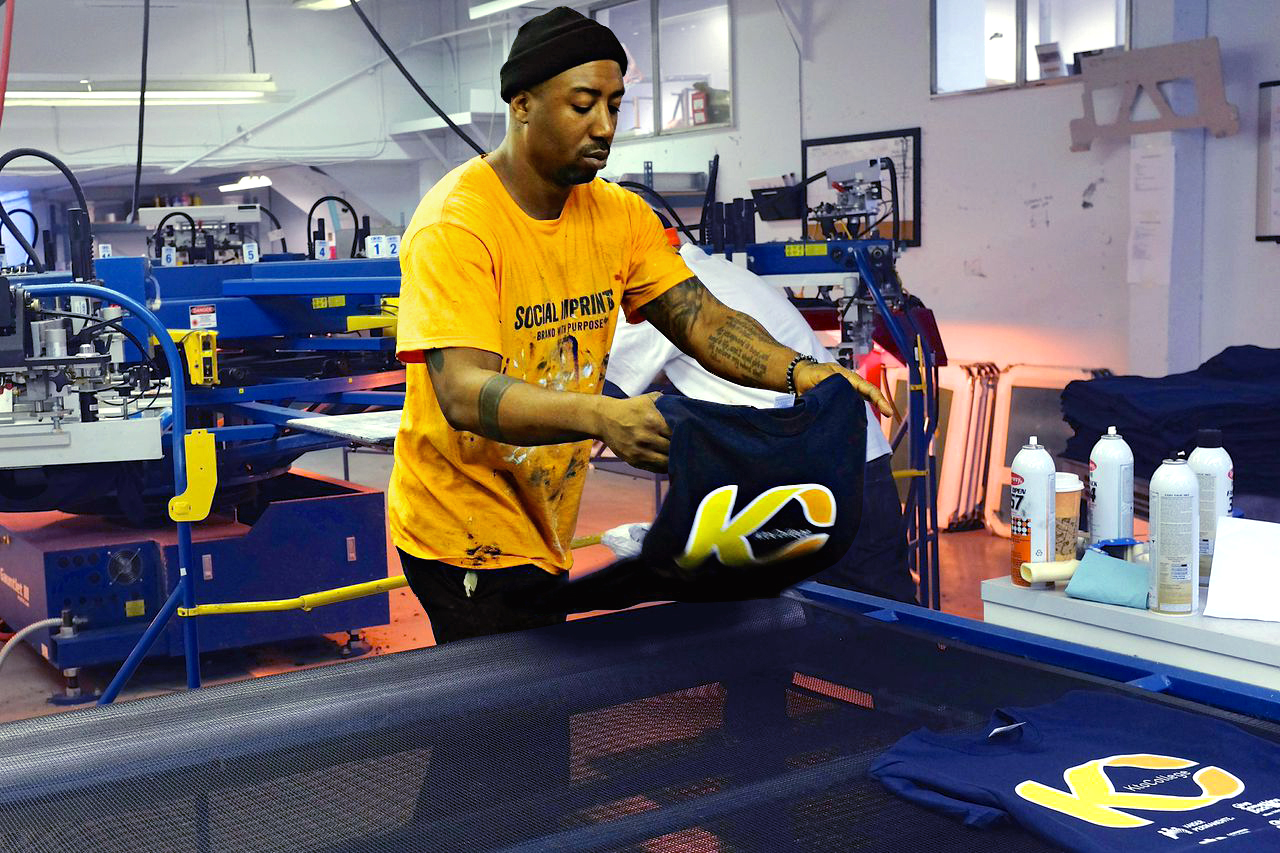 Kevin McCracken, co-founder of Social Imprints, a full-service merchandising company that employs at-risk populations.
Tell us about your business and the work you do.
Social Imprints is a full service merchandise branding company headquartered in San Francisco.  We create merchandise programs for many of the most innovative and successful companies in the tech industry.  The company was started by myself and Jeff Sheinbein to offer the highest quality promotional items as well as hire individuals who need a second chance and train them to become industry experts. As Jeff recalled, "We wanted to create a different kind of printing company, one that would offer high-quality promotional products and outstanding customer service while also providing maximum social returns to the community."
Currently Social Imprints employs 30 full-time employees with 90 percent coming from at-risk backgrounds.  Two years ago Social Imprints opened a state-of-the-art screen-printing production facility that is considered one of the most environmentally friendly in the industry.
What does it mean to you to create a more socially and environmentally responsible apparel industry?
Social Imprints is proud to join this collaborative and work towards a more environmentally responsible apparel industry.  It is the next step in both our development as a company and as a member of this industry.  As a leader in social enterprise, we take our responsibilities as a company seriously, and could not be happier to join similar thought leaders on this endeavor.
How important is water to what you do?
Water is key to our production process.  We use it in the most important parts of our process, creating screens. Developing and reclaiming screens can require up to four gallons of water each. As a company that does a high volume of screen production, we want to change this. We work to train our screen makers to use the least amount water to reach the desired results. This is of utmost importance to us as an organization, as we want to not only do good work in our community but be great global citizens by using as few of the world's precious resources as possible.
What do you hope to get out of participating in the LS&Co. Collaboratory?
It is key for our company to reflect our values, and the needs of the community where we do business. The fact that California has had an ongoing drought, reducing water use in our production process is a huge step in meeting both of those goals.  I hope to receive great feedback on how we can continue to create the best products with less water use.  It is important that we also be able to listen to others interested in the same goals. I can't wait to meet the other participants and my mentor, and hear what they have to offer the discussion.  We hope to find solutions that make sense for our Social Imprints.
What's your Levi's® story?
I have lived in Northern California my whole life, and San Francisco for the past 20 years.  I have always worn Levi's® clothing. Living here, Levi's® is everywhere, and they have been great community partners for many businesses and nonprofit organizations in our city.    When I was selected to participate in the Collaboratory, I got more than a little excited. Levi's® represents quality and has been part of my entire life as a clothing brand.  I can't wait to get to work!


Pauline Munga, founder and creative director of Home Abroad, a startup featuring ethically made fashion that incorporates African textiles.
Tell us about your business and the work you do.
The concept of Home Abroad was formed this past summer. Having worked in mass fashion, I was at a point when I was ready for a career move. I knew that whatever was next, I needed to use my fashion design skills and experiences to positively impact the lives of others.  I had been mulling over the idea of building an innovative company, something tech-based, so I joined Founder Institute. And the more I refined my idea, the more I knew that my heart was in African heritage techniques and fabric. As a Kenyan native, I missed seeing the varied fabrics and artisanal textiles and saw an opportunity to bring them to market in a way that suits the global market.
This fall I launched Home Abroad, an e-commerce fashion business. It's an off-the-rack contemporary designer label featuring mini collections that focus on each African country's textile resource. Our first dress collection uses 100 percent Certified Fair Trade Organic Cotton from Burkina Faso. This is a luxurious fabric that is hand dyed using low impact dyes and then hand woven by artisans. The dresses are then made in NYC's historic garment district. In addition to this, 5 percent of the profits from this collection will go into a philanthropic fund that will support education and literacy efforts in Burkina Faso.
What does it mean to you to create a more socially and environmentally responsible apparel industry?
We are all part of the puzzle, carrying a seemingly small part, but significant nonetheless, because collectively we are all integral to our future. As a consumer, I seek clothing that is well made from companies that care about the greater good of the planet and its people. As a fashion designer, I want to add value using my talents and skills. Home Abroad is a natural extension of that. By creating clothing that addresses the maker community and user needs, Home Abroad will be part of a global movement towards sustainability. Education and awareness about Africa's untapped resources and the diversity of its varied places, peoples and cultures is also very important to me. I am happy to be a part of that ecosystem because consumption is also directly related to social add environmental impact. It is encouraging to know that there are many socially minded designers that are approaching sustainability and tackling social and environmental issues with diverse, innovative solutions.
How important is water to what you do?
As a fashion designer, I am aware of the immense water consumption and waste that comes from my industry. As a Kenyan, even if I hail from a town with abundant water supply, I am very aware that some in my extended community have to wait for a furrow to provide water on Tuesday or Saturday ,or the seasonal rains to fill the parched water tanks, or have to walk long distances to fetch water… The change has to start from within us and I know that I need to do something about it. I have a responsibility to create social impact with lasting positive change.
What do you hope to get out of participating in the LS&Co. Collaboratory?
As a startup in an early stage, being part of a structured program that is led and sponsored by a company that is committed to sustainability and in an active entrepreneurial community that provides business development and sustainability mentorship is key. I look forward to the personal growth and development and I'm excited about learning about other fashion business frameworks and engaging in activities that expand my business development knowledge.
I also look forward to the Collaboratory fostering an open exchange of ideas and the sharing of successful practical solutions as well as a chance to build timeless partnerships and critical networks. The business of fashion continues to evolve, and I think that a designer's responsibility will change in the next 10 years. So taking part in a forward-thinking forum will not only help with solutions for today's pressing issues, but will also help us make decisions that could mitigate tomorrow's problems.
What's your Levi's® story?
I admire companies like Levi's® that sell popular, well-branded products yet are innovation-focused and pushing toward the next best idea. Project Jacquard and Water<Less™ dyeing techniques are perfect examples of why Levi's® continues to intrigue me.