July 21, 2015
LS&Co. Expands Clothing Recycling Initiative to All U.S. Stores
At LS&Co., progress is woven into everything we do, from how we make our clothing to how we care for the planet. But we know that sustainability is larger than just one company. It's about empowering all of us as individuals to make better, earth-friendly choices. That's why, on the heels of our updated lifecycle assessment this spring, we are expanding our clothing recycling program to all Levi's® mainline and outlet stores in the U.S.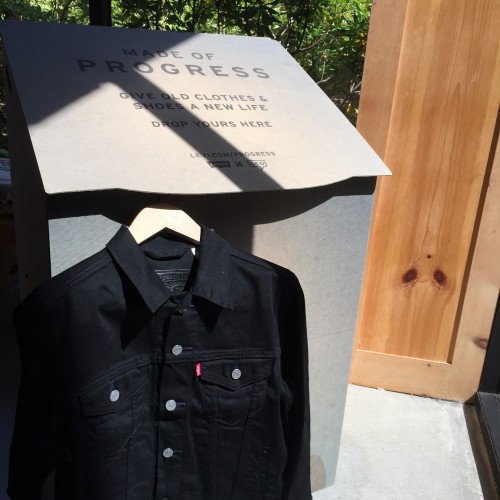 Consumers can now drop off their no-longer-wanted clothing or shoes (any brand!) in the collection boxes at their local Levi's store. Any consumer who brings an item of clothing to recycle will receive a voucher for 20 percent off a single, regular-priced Levi's item in-store. I:CO, our clothing collection partner, will ensure that the discarded garments and footwear are re-worn, repurposed or recycled.
"We're thinking about sustainability across all facets of our business and how to shift consumer behavior to make recycling clothing the norm," said Michael Kobori, vice president of sustainability at Levi Strauss & Co. "As an industry leader, we consider all phases of our product lifecycle, including stages beyond our direct control like the product's end point. Collecting used clothing at our stores makes it simple and easy for consumers to do their part and builds upon our commitment to do the right thing for the environment."
This expansion of our recycling initiative is the latest endeavor in LS&Co.'s broader sustainability goal of creating an infrastructure that supports a circular economy by 2020. In the apparel industry, this refers to designing a product from cradle-to-cradle rather than cradle-to-grave. For example, in 2014, with our  Wellthread™ pilot, our designers created 100% recyclable product from a single fiber – cotton – that not only met durability expectations of consumers, but could also be easily remade into new garments. Recycling clothing by separating fibers and creating new garments reduces the need for virgin cotton, generating significant water and other environmental resource savings.
Diverting old garments from landfill while making it easy for consumers to do their part is our the next step to realizing a more sustainable future through closed loop products.
Find a local Levi's store using the Levi's Store Locator.
Like this story?
Sign up for the Unzipped newsletter to get the best of the Unzipped blog — company news and views, employee profiles, innovation and sustainability stories, behind-the-scenes and Archives highlights — sent straight to your inbox weekly.