November 5, 2014
The following is an excerpt from an article originally published on LinkedIn, where LS&Co. leaders periodically share their perspectives and expertise on business trends, industry issues, careers and the workplace. Have thoughts or reactions to this piece? Head on over to LinkedIn to share them.
While only in my sixth month tenure at Levi Strauss & Co.'s flagship headquarters in San Francisco, I can say one of the single biggest challenges in this new role is recruiting tech talent. Of course, with neighboring Silicon Valley, there's no shortage of competition, from Google to Facebook to eBay. So how do we set ourselves apart to find those digitally savvy individuals who can help us market our brands to consumers in the fastest, smartest, and most efficient way?
To me, finding the best people to populate our team isn't about competing with the startup world for the best and brightest. It's about finding the right fit for our own unique and internal culture.
My mission is to build on our dynamic digital team and create a tour de force of retail know-how and technical prowess. It's my job to make sure we stay true to our company-wide roots in sustainability, innovation, and corporate social responsibility with every role we fill in engineering, coding, UX, design, and SEO.
Now I know it might not be the most conventional route to hiring tech talent in San Francisco, but that's exactly the point — after all, this is the team tasked with bringing our iconic brand and the legacy of the blue jean well into the future.
Read Marc's full article on LinkedIn for five telltale signs that you might be our ideal ecommerce candidate.
---
ABOUT THE AUTHOR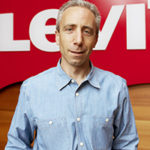 Marc Rosen is Executive Vice President and President of global ecommerce. He is responsible for leading the company's global ecommerce business to drive new growth, consumer loyalty and sustainable profitability. Rosen brings more than 20 years of retail and ecommerce leadership to the role, most recently as senior vice president of global ecommerce at Wal-Mart Stores Inc. His background includes driving growth through consumer-focused technology innovation, creating and implementing end-to-end merchandising and inventory management systems, improving the consumer experience, and driving product advancements such as pick up today, pay with cash and same-day delivery.
---