August 5, 2014
We recently launched the Live in Levi's® Project to invite you to share your story with us. Now, we're kicking off our Modern Day Pioneers series, to share stories of some fans who are changing the world in their Levi's® — whether it's a small business owner making strides in sustainability or a writer who has transformed the way we tell stories. We hope these vignettes will inspire and empower you to live your life to its fullest in Levi's®.
Our first Modern Day Pioneer is Larry Smith, creator of the Six-Word Memoir® project and SMITH Magazine (spoiler alert: he also has a special connection to the hit series, Orange Is the New Black). A couple weeks ago, Larry came to Levi's® Plaza to lead employee workshops around six-word storytelling. He's a curious guy, even asking his cab driver if he was a fan of Levi's® (check out the video below for his answer). After spending just a few minutes with him, we knew Larry would be the perfect changemaker to feature as our very first Modern Day Pioneer profile – we also couldn't stop counting our words.
Larry was on the forefront of today's populist storytelling movement, and sure, we could write a long bio about all the great work Larry has done to change the way we tell stories, but that just wouldn't do his work justice. In his own words (that he worn on his T-shirt during his workshops with us), this is Larry in a nutshell: "Now I obsessively count the words."
Don't count all these words, but keep reading for Larry's perspective on the six-word movement and his love for Levi's.  If you too get a six fix, share your own Six-Word Memoir on SixWordMemoirs.com and you could be in one of Larry's upcoming books. And we hope you'll share an even more words and tag them #LiveInLevis, and you might just see it included in the Live in Levi's® project.
UNZIPPED: Why is it important for people to share stories?
LARRY: The act of releasing the story is powerful for you and the person that is on the receiving end of the story gets something too. Everyone wins. Your perspective is open – you can confirm a story or become open to a new idea. The Six-Word Memoir project is just another way to tell a story.
What's your favorite Six-Word Memoir that you've written?
My first one that I wrote right when we launched the project: "Big hair. Big heart. Big hurry."
Do you consider yourself a pioneer in the storytelling space?
I think I'm a pioneer in short-form storytelling having launched Six-Word Memoirs in 2006 in collaboration with Twitter (its first-ever editorial partnership). People like to say things like Facebook and Twitter are ruining writing, and to some extent Six-Word Memoirs, but I disagree. In the case of the challenge to tell a story in six words, the constraint of the form actually fuels creativity. The barrier to entry is easy when you've written a story in just six words; and from what I've seen both on my website and in workshops of all kinds, six words are often a spark to start writing a larger story.
What accomplishment are you most proud of?
I'm most professionally proud of the fact that the simple form of six-words has inspired so many people of all ages, but certainly young people to start writing and believe they have a story worth telling. I spend a lot time in classrooms and to see a kid go from "I don't know what to say about myself" to "I can't stop writing about my life in six words" is a phenomenal feeling. Each person, whether 6 or 106, has a story worth telling; with six words I've simply given them a tool to make it easier. From there it's up to them. They take it from there and they usually take it to amazing places.
Have a six-word memoir for Levi's®?
Good jeans, that's all you need.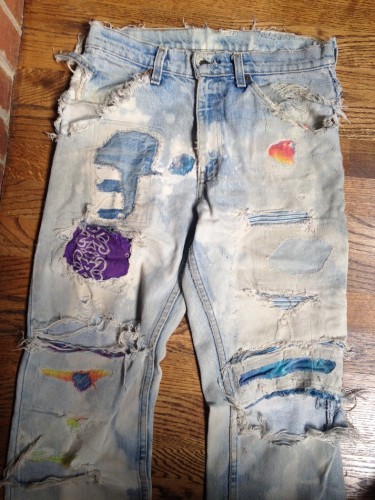 What's your favorite Levi's® story?
I had this pair of jeans, summer before college. I was living with my grandparents in Atlantic city – Jersey  Shore – and I had this awesome pair of Levi's that I bleached … I bleached them, that white thing that was very popular in the late '80s, and they had holes in them. That summer before college in Atlantic City I was running around, I was all over the place, it was awesome. It was the great teen summer of my life. My wife says I need to stop talking about that because I'm over 40.
So….. eventually those jeans that I wore all summer got holes in them, and my grandmother couldn't deal with the holes; she wanted to patch them so I took my tie-dye bandana and gave it to my grandmother to patch them.
And every morning, I'd wake up and my grandmother would have made me breakfast and washed and ironed my jeans. I still have those jeans. Those jeans represent the greatest teen summer ever—and the beginning of a new chapter in my life.
Do you have a personal Levi's® six-word memoirs?
"I keep changing with my Levi's." … or maybe … "Out of the black, into blue." (I had a black jeans phase.)
What legacy do you hope to leave on the world?
My legacy is to ask people a simple question, "Everyone has a story, what's yours?"  And the hope is each and every person answers.
This is a little dark, but what would be on your tombstone?
I'm not going to have a tombstone; I'd prefer to have a dedication on a worn red bench where I often sit outside my favorite café in Brooklyn. And on that bench it would say, "In honor of Larry whose mind was often fueled by the coffee here. " And then the six-word epitaph would be: "Now he can finally stop counting."
Share your Levi's® story by using #LiveinLevis in your social media channels. For more #LiveInLevis stories, check out the Live in Levi's® Project.