May 6, 2014
One of the best parts of school has to be the field trip, right? You're out of the classroom and into "the real world."
Last month, that real world was Levi Strauss & Co. for industrial and fashion design students at San Francisco's California College of the Arts (CCA).
A group of about 20 students paid us a visit to understand our work and progress in the area of sustainability—in both operations and product design.
It makes sense that they'd come here. Not only do CCA and LS&Co. have the same hometown, but we both also share a commitment to sustainability. In fact, both have long been leaders in this area.
It's one thing to study the apparel industry in the classroom, but to ask questions of industry experts makes it real. In this case, the experts were Michael Kobori, vice president of sustainability, and Paul Dillinger, head of global product innovation.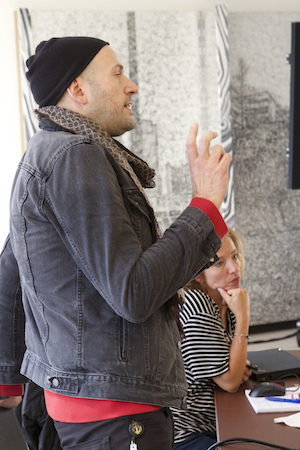 "The students at CCA share our company's values," Paul said. "They're eager to learn about our approach to sustainable design and production. They also have a fresh perspective and boundless creativity."
Michael agreed, saying, "It's a great opportunity for us to be challenged and questioned by young people whose passion and vision know no bounds."
After a question-and-answer session with Paul and Michael at our headquarters, the students walked a few blocks to our new innovation lab. This is where technicians and seamstresses turn designers' sketches into real prototypes while testing new processes and experimenting with innovative sustainability techniques.
Based on the students' comments, they liked what they saw:
"I was surprised how much experimentation and variety can live in a classic blue jean," one student said. "I knew LS&Co. was ahead in design thinking, but seeing new methods in practice was convincing and inspiring."
Another reacted to Paul's presentation on sustainable design methods:
"Two of my biggest takeaways? One, no matter what, do the right thing, and two, that designers need to ask the best questions, not always have the right answers."
The interaction between company leaders and CCA students is seen by all as a huge positive—and a major reason why CCA students visit LS&Co. year after year.
As Paul summed it up, "This kind of dialog has the potential to spark the next big idea."