January 6, 2012
Next time you see the Grammy-winning rock duo The Black Keys perform, see if they're wearing their customized Levi's® Trucker jackets.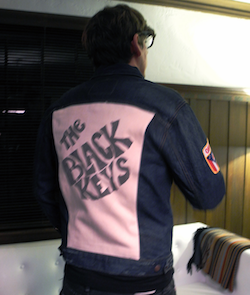 Our Haus of Strauss recently hosted Ohio's finest and gave industry execs, DJ's, and consumers their first-ever listen of the band's new album; El Camino. The duo of Dan Auerbach and Patrick Carney were on hand to talk about their music and share their love of Levi's®.
Dan and Patrick walked away with Made in the U.S.A. product and a pair of exclusive, custom Truckers that drew influence from the bands Ohio roots and blues swagger. (That's Patrick in his jacket pictured left.)
Three-time Grammy winners, The Black Keys have spent the last 10 years building one of the most fevered followings and have provided the soundtrack to recent hits like Gossip Girl and Bad Teacher. A European tour for The Black Keys kicks off Jan. 23 in Antwerp.
Haus of Strauss is the Levi's® brand's Los Angeles studio, where we share our product with the movers and shakers of music, movies and TV. Look for more news from the Haus on LS&Co. Unzipped in the year ahead.