When protests broke out two years ago this month in response to the death of Michael Brown in Ferguson, Missouri at the hands of a police officer, religious leaders were on the frontlines, marching in the street with youth.
Police responded with militarized force, pelting activists with smoke bombs, tear gas canisters and rubber bullets, hitting one local pastor in the abdomen while she peacefully chanted.
Pastor Michael McBride was among those faith leaders caught in the melee and ultimately arrested. Yet he remained resolute; his life's work depends on it.
Better known as Pastor Mike, McBride is the director of the Live Free Campaign — a movement of inter-faith organizations and congregations committed to addressing the causes of pervasive violence and crime in communities of color. Live Free is a campaign of the Pacific Institute for Community Organizations (PICO), a highly regarded national network of faith-based community organizations seeking innovative solutions to problems facing communities.
"I have faith that our efforts can change society," he said. "I have seen many lives lost to gun violence, and yet I've also seen many lives saved, redirected and transformed due to our interventions."
Pastor Mike is also part of Levi Strauss & Co.'s new class of Pioneers in Justice – Pioneers 2020 – next-generation Bay Area social justice leaders at the forefront of policy and systems change in the areas of gender, climate change, criminal justice, LGBT rights, racial equity, immigrant rights and gun violence.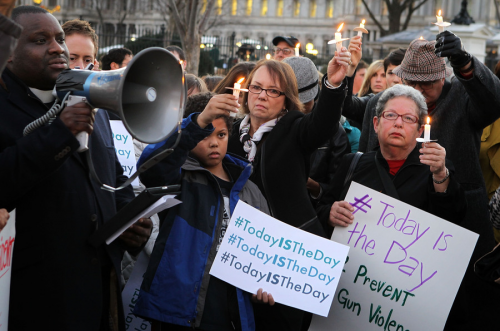 A powerful tradition of social and political activism in the African American church fuels Pastor Mike's advocacy and resilience – he is deeply motivated by a desire to get the spiritual community engaged.
"One of the most memorable conversations I had was in 1999," he recalled. "I was a recent victim of police abuse and the youth expressed how this was a common experience among them and their peers. I asked them why they had never brought this issue to our church, and they responded, 'We didn't think the church was a place to address these kinds of issues.' Much of my work since that conversation has been committed to making sure the faith community shows up powerfully in the fight for racial justice."
Pastor Mike has spent a lot of time in Ferguson, working with young people as a peacekeeper and supporting their acts of civil disobedience. He says the protesters are "practicing the legacy of civil rights and resistance." He believes that the criminalization and incarceration of people of color, coupled with the lack of meaningful opportunities, have contributed to a state of crisis in the United States.
As he sees it, Pastor Mike acts as a connector between the most influential halls of power of the nation and the abandoned and forgotten segments of the population. His efforts have garnered the attention of the White House, where he was recently appointed to the Advisory Council on Faith-Based and Neighborhood Partnerships to the Obama Administration. He joined 11 faith leaders to speak with Vice President Joe Biden about gun violence, and has been interviewed by Rachel Maddow about his work.
Not one to forget his home turf, the Berkeley-based pastor has also been active here in California, taking a leadership role advocating for a state bill that aims to curb racial profiling, as well as increase transparency and accountability of law enforcement agencies.
"We can indeed change the worst conditions in our communities," he said, "if we work together, with clarity of purpose and action."
Header Image: Eurydice Galka Photography