Levi Strauss & Co. is pioneering practices to reduce the use of energy, water, chemicals and other materials in the apparel industry. We can't do this alone, but by taking innovative actions and partnering with others throughout the industry, we can help drive change and reduce our overall environmental impact.
Lifecycle Assessment
THE LIFECYCLE OF A JEAN
At Levi Strauss & Co, we're focused on building sustainability into everything we do. To that end, we conducted the apparel industry's first lifecycle assessment (LCA) study in 2007 to assess the full environmental impact of a core set of products from cradle to grave. The study found that the greatest water and energy impact was in two areas: cotton cultivation and consumer use.
Since then, we've made tremendous progress innovating around water reduction in denim manufacturing, including creation of the Water<LessTM process and implementing the apparel industry's first Recycle/Reuse standard.
Levi Strauss & Co. has saved 1 billion liters of water since 2011 through our Water<LessTM process, which reduces the water used in garment finishing by up to 96 percent. We've also taken bold steps to reduce the environmental impact of our products in areas outside our direct control through our Care Tag for Our Planet initiative and by working with the Better Cotton Initiative® (BCI).
This year LS&Co. released a new global lifecycle assessment study, an update on the 2007 study that examined the environmental impact of our LS&Co. products. The new study analyzed the complete product lifecycle, probing deeper into the environmental impacts of cotton in key growing regions, apparel production and distribution in a range of locations, and consumer washing and drying habits in key markets.
The study shows that of the nearly 3,800 liters of water used throughout the lifetime of a pair of jeans, cotton cultivation (68%) and consumer use (23%) continue to have the most significant impact on water consumption. Consumer care is also responsible for the most significant energy use and climate impact, representing 37 percent of the 33.4 kilograms of carbon dioxide emitted during the lifecycle of a jean.
The new LCA expands on previous research to better understand the impact of cotton cultivation and includes data from the world's primary cotton producing countries, including the United States, China, Brazil, India, Pakistan and Australia. It also analyzes consumer care data from new markets, including China, France and the United Kingdom, to understand the costs and benefits of differences in washing habits.
THE LIFECYCLE OF A PAIR OF LEVI'S® 501® JEANS — SUMMARY OF KEY FINDINGS
Water Consumption: Nearly 3,800 liters of water are used to make a pair of jeans. Fiber production, predominantly cotton (68%), consumes the most water, followed by consumer care (23%).
Climate Change: Of the 33.4 kg of carbon dioxide produced during the lifecycle of a pair of jeans, consumer care (37%) and fabric production (27%) generate the most significant climate change impact and energy use.
Expanded Scope: By expanding our scope to include leading cotton-producing countries, we've seen the water consumption from cotton cultivation increase, since the amount of water used to grow cotton varies significantly across the world. Also, by including new consumer markets we've found that washing and drying habits vary by region.
Impact: By wearing jeans 10 times before washing, American consumers can reduce their water and climate change impact by 77 percent, U.K. and French consumers by 75 percent and Chinese consumers by 61 percent.
Regional Highlights:
Current average washing frequency:

In the U.S., consumers typically wear their jeans 2 times before washing them.
In the U.K. and France, consumers typically wear their jeans 2.5 times before washing them.
In China, consumers typically wear their jeans 4 times before washing them.

Consumer jeans-washing habits vary by region:

Americans use more water and energy to wash and dry their jeans than consumers in the other markets.
Consumers in the U.K. and France mostly air dry their jeans and use more hot water than others.
Consumers in China mostly wash in cold water and air dry.
For more details and findings, view our Lifecycle Assessment Study.
FOR MORE INFORMATION
WHAT IS AN ENVIRONMENTAL LIFECYCLE ASSESSMENT?
A lifecycle assessment (LCA) is a systems-based, quantitative method for evaluating the environmental impact of a product. This tool is used to assess the stages and impact of a product's entire life, from raw material extraction (cradle) to waste treatment (grave). LCAs focus on environmental impacts, and typically do not consider social or economic impacts.
Findings from LCA studies are used in multiple ways:
Allow us focus on the most significant environmental impacts as we develop and evaluate sustainability programs and policies
Inform product decisions to reduce the environmental impact from design and materials to manufacturing
Support engagement with external stakeholders to reduce impacts of materials and consumer care
Ultimately, we want to allow for accurate and expedient comparison of product environmental performance — enabling significant reductions in environmental impact of all apparel products. In 2013, we became the first apparel company to publish a statistical method, E-valuate™, to compare products or product components. The paper includes a comparison of 26 denim fabrics with data collected from our mill suppliers. The E-valuate™ method was published in a scientific journal to allow for broad access across the apparel industry and beyond.
We also participated in developing an industry-wide standard for simplified apparel LCAs with the Sustainable Apparel Coalition. Through this research we're able to share more information about the environmental impact of our products with both consumers and the factories that make our products — adding a whole new level of transparency. Consumers have more power to shop based on values, while suppliers gain the opportunity to continue partnering with us on ongoing improvements in environmental performance.
Water
Our Lifecycle Assessment shows water is essential to our business: every step of the process to create a garment requires water, from the cotton fields to manufacturing facilities. And in an era of increasing water scarcity, we recognize that water is essential for communities, agriculture, and many industries besides apparel.
We have been reducing our water impact through an ever-growing assortment of activities, including:
RELATED RESOURCES — WATER

-
Consumer Care
We're focused on building sustainability into everything we do. In our scientific life cycle assessment of a pair of Levi's® 501® jeans, we learned that 37 percent of the energy and 23 percent of the water used during the lifetime of a pair of Levi's® 501® jeans occurs during the consumer-use phase.
This is huge and we know it. So in 2009, Levi Strauss & Co. and Goodwill® launched a U.S. partnership — "A Care Tag for Our Planet" — to spread the word that small changes in the way we care for our clothes can help reduce our climate change impact.
The Levi's® and Dockers® brands now include relevant messaging on all global product care tags encouraging us to "Wash less, wash in cold, line dry, and donate when no longer needed." Our aspiration is to help put a dent in the 1,100 liters of water and 60 kilowatt-hours it takes the average American consumer to wash and dry a pair of jeans.
In his Dirty Jeans Manifesto our CEO, Chip Bergh, shares a story about wearing a pair of jeans that had never been washed – and worn for over a year. This is just one example of how we are challenging convention and the mindset of washing clothing after only one or two wears. For years, denim aficionados have attested that not washing jeans makes them wearable longer.
Climate Change
Levi Strauss & Co. recognizes carbon dioxide emissions are a key contributor to climate change throughout the supply chain and that emissions mitigation are vital to the long-term success of our business, as well as the health and well-being of the people who make and buy our products. This is why we measured our baseline global climate footprint in 2007 and established a goal to reduce it by 11 percent by 2011. We beat that goal, achieving a 13 percent reduction.
And when it comes to the next stage in our climate change strategy, our ambitious approach is no exception to our legacy: our vision is to reduce carbon dioxide and other greenhouse gases through maximizing energy efficiency and using 100 percent renewable energy — first in our operations and then throughout the supply chain.
Our new global targets involve engagement at every level of the company, from the front-line employees who operate our stores and make our products, to our financial managers and building operators. We are committed to transforming our operations and moving toward long-term change in how we do business.
OFFICES, RETAIL, AND DISTRIBUTION: 25 percent reduction in greenhouse gas emissions by 2020
MANUFACTURING: 5 percent annual reduction in greenhouse gas emissions per product shipped from our owned and operated plants by 2020
ALL LS&Co.: 20 percent of energy purchases from renewable sources by 2020
Since 2008, we have annually reported our GHG inventory to the Climate Disclosure Project (CDP). Each inventory is verified by a third party in compliance with the WRI Greenhouse Gas Protocol, Revised Edition. Learn more in our Climate Change Strategy.
See our past Greenhouse Gas Inventory reports and Carbon Disclosure Project reports in the Related Resources section below.
PUBLIC POLICY ADVOCACY
We have been, and will continue to be, outspoken champions for public policies aimed at reducing greenhouse gases. Through participation in the Business for Innovative Climate and Energy Policy (BICEP), we have joined other global companies in calling for leadership and support from the U.S. Administration and Congress to develop energy and climate legislation that promotes energy efficiency and climate innovation.
ENERGY EFFICIENCY IN OWNED & OPERATED FACILITIES
Among our areas of focus for reducing energy use are our large-scale distribution centers, which are responsible for about 40 percent of our total energy consumption.
Our remodeled headquarters building in San Francisco received LEED Gold Certification by the U.S. Green Building Council, highlighting the building's high performance in multiple areas of green design and energy use.
It's a significant accomplishment to achieve a gold rating on a building renovation — when you're not starting from scratch — particularly when you're working with existing mechanical systems, building design, windows and the like.
RELATED RESOURCES — CLIMATE CHANGE

-

Reports

Policies & Commitments
Chemicals
From pesticides and fertilizers used in cotton production to dyes in the manufacturing process, chemicals touch the clothes we produce. We were one of the first companies in our industry to establish a Restricted Substances List. And we are committed to doing our part to achieve zero discharge of hazardous chemicals by 2020.
Our Restricted Substances List (RSL) identifies the chemicals we will not permit in our products or in the production process due to their potential impact on consumers, workers and the environment. The RSL provides up-to-date information to our business partners, including direct sources and licensees, on product compliance with international consumer products regulations, to the best of our knowledge.
Building on our RSL, Levi Strauss & Co. joined the Joint Roadmap Towards Zero Discharge of Hazardous Chemicals (ZDHC), an apparel industry collaboration to drive systemic change with a goal of zero discharge of hazardous chemicals by 2020. Such collaboration mirrors our belief that this collaborative approach to chemicals management is the most effective way to achieve the scope and scale necessary to meet the goal of zero discharge in the apparel industry.
Read our commitment to zero discharge  and our Greenpeace Detox Solutions Commitment.
Recycling & Reuse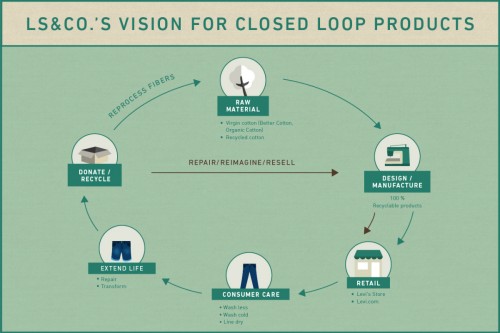 While many consumers are familiar with recycling bottles, cans and paper, most still throw away clothing. Annually, Americans alone discard more than 28 billion pounds of unwanted clothing, shoes and other textiles. Charitable organizations and others collect roughly 15 percent of these items, while the remaining 85 percent — 24 billion pounds — end up in landfills We're working to ensure that the raw materials from these items are put to a new use, so they can continue to reinvent themselves.
In 2015 we expanded our clothing recycling initiative in both our retail stores and through our ecommerce sites in the U.S.:
Levi's® Retail Stores: We rolled out clothing recycling to all U.S. to all Levi's® mainline and outlet stores in the United States, in partnership with I:Collect (I:CO), an end-to-end solutions provider for reuse and recycling of apparel, footwear and other textiles.   I:CO has best-in-class procedures for sorting clothing and shoes — wearable items are resold and re-worn, while other pieces are reused as products such as cleaning cloths, recycled into fibers for insulation and paddings or upcycled into new products.
Levi.com & Dockers.com: We announced a new program in partnership with Goodwill that provides consumers an opportunity to donate used clothing and shoes by using a free shipping label available on the U.S. ecommerce sites for the Levi's® and Dockers® brands. During the 2015 holiday season LS&Co. will support Goodwill's mission of creating jobs by contributing $5 to Goodwill, up to $50,000 (with a guaranteed minimum of $25,000), for every box of donated clothing shipped. This innovative way to donate is supported by a tool called Give Back Box.
Expanding clothing and shoe recycling is the latest endeavor in LS&Co.'s broader sustainability goal of creating an infrastructure that supports a circular economy by 2020.
How to Participate:
1. Bring Your Clothing to a Levi's Store
Drop unused items —any brand of clean, dry clothing or shoes — even non-Levi's® items. into the collection box at your local Levi's® store. Any consumer who brings an item of clothing to recycle will receive a voucher for 20 percent off a single, regular-priced Levi's® item in-store at one of our participating retail stores. Your items will be sent to I:CO's collection facilities, where they'll be sorted and reused or recycled into new raw materials and products. Learn more about our partnership with I:CO.
We are expanding clothing recycling to additional Levi's stores globally in 2016. Check back for updates.
2. Ship Your Clothing to Goodwill
To donate used clothing and shoes, print a free shipping label available on levi.com/goodwill and dockers.com/goodwill, fill a box, such as those from Levi.com and Dockers.com orders, with any brand of clean, dry clothing or shoes, affix the label and ship as usual. Donations will be send to the nearest participating Goodwill location. Shipping donations is free for consumers. Learn more about our partnership with Goodwill.
We hope that someday every piece of clothing we sell will have another life!