sustainability
innovative practices: planet
Throughout Levi Strauss & Co., we are pioneering practices to reduce the use of energy, water, chemicals and other materials in the apparel industry. We can't do this alone, but by taking innovative actions and partnering with others throughout the industry, we can help drive change and reduce our overall environmental impact.
Life Cycle of a Jean
At Levi Strauss & Co, we're focused on building sustainability into everything we do. So we commissioned a scientific life cycle assessment (LCA) to find out the facts about the climate change, water and energy impact of a pair of Levi's 501 and Dockers Original Khaki from cotton seed to the landfill.
With the data we collected in our life cycle study, we developed a method for our designers to quantify – with precision – how new designs impact the environment when those designs are still ideas. Armed with this new knowledge, our designers can make better choices from the very beginning to create the most fashionable styles with a smaller carbon footprint, using less water, and minimizing the environmental impact.
Another benefit of our research is that we're able to share more information about the environmental impact of our products with you, the consumer, and the factories that make our products. This adds a whole new level of transparency. For you, this means more power to shop with your values. For our suppliers, the information provides an opportunity to continue partnering with us on ongoing improvements in environmental performance.
As part of our commitment to transparency, we measured the environmental impact of making 11 of our products. The impact of each was assessed in the following categories, which environmental scientists and life cycle experts use to calculate overall environmental impact.
• Contribution to climate change – Quantifies amount of green house gas emissions
• Energy use – Quantifies how much energy is used in production
• Renewable energy use – Percent of energy use from renewable sources
• Water consumption – Shows water usage, measured in cubic meters
• Land occupation – Amount of land needed to produce a product
• Qualified sustainably grown fiber content – A content analysis of fibers grown under a recognized cultivation program to address areas of sustainability
• Waste generation – Surveys the primary solid waste content during production and finishing
• Materials efficiency – How much of the primary materials end up in the final product
• Recycled content – Assesses the amount of materials used from post-consumer recycled sources
• Land transformation – Amount of land transformed from its original state by production
• Eutrophication – Measures impact of harmful nutrients discharged to freshwater bodies
As much as possible, we strive to use the actual, primary data on environmental impact rather than industry averages or proxy indicators. We do this to obtain the most accurate measure possible of environmental impact.
We've started with 11 products and the goal of mining primary, original data from those products to share with consumers, other companies and third party organizations. Our hope is that this transparency will eventually be used as a consumer tool to compare products, and, ultimately, influence sustainability practices across the apparel industry. Consumers can expect to see this data for our entire collection in the coming years.
See resulting environmental impact information from our first 11 products here. For more detailed information about our product assessments, download our study.
Climate Change
Levi Strauss & Co. recognizes carbon dioxide emissions are a key contributor to climate change throughout the supply chain as well as the fact that change mitigation is vital to the long-term success of our business and the health and well-being of the people who make and buy our products. This is why we measured our baseline global climate footprint in 2007 and established a goal to reduce it by 11% by 2011. We beat that goal, achieving a 13% reduction.
And when it comes to the next stage in our climate change strategy, our ambitious approach is no exception to our legacy: our vision is to reduce carbon dioxide and other greenhouse gases through maximizing energy efficiency and using 100% renewable energy — first in our operations and then throughout the supply chain.
Our new global targets involve engagement at every level of the company, from the front-line employees who operate our stores and make our products, to our financial managers and building operators. We are committed to transforming our operations and moving toward long-term change in how we do business.
OFFICES, RETAIL, AND DISTRIBUTIO

N

: 25% reduction in greenhouse gas emissions by 2020

MANUFACTURING

: 5% annual reduction in greenhouse gas emissions per product shipped

ALL LS&Co.:

20% of energy purchases from renewable sources by 2020
Since 2008, we have annually reported our GHG inventory to the Climate Disclosure Project (CDP). Each inventory is verified by a third party under The Climate Registry General Reporting Protocol and publicly available on The Climate Registry's website. Learn more in our Climate Change Strategy.
See our past Greenhouse Gas Inventory reports and Carbon Disclosure Project reports in the Library below.
Furthermore, we have been, and will continue to be, outspoken champions for public policies aimed at reducing greenhouse gases. Through participation in the Business for Innovative Climate and Energy Policy (BICEP), we have joined other global companies in calling for leadership and support from the U.S. Administration and Congress to develop energy and climate legislation that promotes energy efficiency and climate innovation.
Water
Our lifecycle studies show how essential water is to our business: every step of the process to create a garment requires water, from the cotton fields to manufacturing facilities. And in an era of increasing water scarcity, we recognize that water is essential for communities, agriculture, and many industries besides apparel. We have been reducing our water impact through an ever-growing assortment of Water<Less techniques, water quality requirements for suppliers, and an innovative standard to recycle water in factories. We intend to continue to drive the conversation on this essential resource.
Process
In 1994, we started our water efforts by releasing the industry's first discharge wastewater quality guidelines for our wet finishing laundries, our Global Effluent Requirements, and then scaled and made them mandatory for our worldwide suppliers several years later. With these guidelines, we limit the contaminant levels allowed in suppliers' wastewater from wet finishing and minimize the environmental impact to local water resources. In some countries our water quality guidelines are even more stringent than local regulations require. We shared our guidelines with other apparel brands because we recognized that working with competitors could multiply the effectiveness of our efforts.
In 2011, the company began using Water<Less™ techniques that reduce the amount of water used in garment finishing by up to 96 percent for certain products. Water<Less achieves these water savings through simple, innovative adjustments to our wet finishing processes. For instance, simply removing water from stone washes or combining multiple processes can have a big impact. Since launching the Levi's Water<Less platform, we have saved more than 770 million liters of water by making more than 62 million Water<Less products, and we continue to expand the scope and scale of the program.
In 2013, we developed the first standard for water recycling and reuse in the apparel industry and we worked with one of our suppliers in China to set up a system that can produce high quality products using 100% recycled water. At the first approved production location, we made 100,000 pairs of Levi's women jeans with recycled water and our goal is to scale this innovative process to many of our wet finishing suppliers and collections. For more explanation on the process, click on the infographic below, and read our recycled water blog post.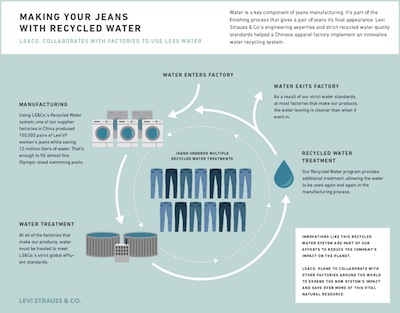 CEO Water Mandate
Levi Strauss & Co is one of the founding member signatories of the CEO Water Mandate. Established in July 2007, this unique public-private initiative, under the auspices of the United Nations Global Compact, assists companies in the development, implementation and disclosure of water sustainability policies and practices.  Our signature acknowledges that companies have a responsibility to make water-resources management a priority and to work with governments, UN agencies, non-governmental organizations and other stakeholders to address the global water challenge. Our commitment to the CEO Water Mandate is ongoing. Read our progress report to learn about new steps we have taken to improve water management.
Better Cotton Initiative
More than 50 percent of the water associated with our products stems from activities in our supply chain – from cotton production to retail sales. We are a committed and procuring Pioneer Member of the Better Cotton Initiative. BCI's goals include educating farmers to use water more efficiently in producing cotton and caring for the overall availability of water. Read more about our work with BCI.
Chemicals
From pesticides and fertilizers used in cotton production to dyes in the manufacturing process, chemicals touch the clothes we produce. We were one of the first companies in our industry to establish a Restricted Substances List. And we are committed to doing our part to achieve zero discharge of hazardous chemicals by 2020.
Our Restricted Substances List (RSL) identifies the chemicals we will not permit in our products or in the production process due to their potential impact on consumers, workers and the environment. The RSL provides up-to-date information to our business partners, including direct sources and licensees, on product compliance with international consumer products regulations, to the best of our knowledge.
Building on our RSL, Levi Strauss & Co. joined the Joint Roadmap Towards Zero Discharge of Hazardous Chemicals (ZDHC), an apparel industry collaboration to drive systemic change with a goal of zero discharge of hazardous chemicals by 2020. Such collaboration mirrors our belief that this collaborative approach to chemicals management is the most effective way to achieve the scope and scale necessary to meet the goal of zero discharge in the apparel industry. Read our commitment to zero discharge here and our specific company action plan here.
Recycling & Customer Care
We're focused on building sustainability into everything we do. To this end, Levi Strauss & Co. commissioned a scientific life cycle assessment of a pair of Levi's® 501® jeans and Dockers® Original Khakis. Our life cycle assessment helped us find out the facts about the climate change, water use and energy impact of each of these products.
To our surprise we learned that 58% of the energy and 45% of the water used during the lifetime of a pair of Levi's ® jeans occurs during the consumer-use phase. This is huge and we know it. So we've invited a global dialogue with costumers about how caring for their clothes affects the environment through initiatives such as Care Tag for Our Planet.
Yet, we do realize that someday, even your favorite pair of Levi's® jeans or Dockers® khakis will reach the end of its useful life. To begin to address this issue, we're piloting projects where we reuse old jeans as building insulation and other materials. For instance, we installed recycled denim insulation from Bonded Logic, Inc. in our newly renovated headquarters in San Francisco.