Introduction
Anyone can make a pair of blue jeans, but Levi Strauss & Co. made the first blue jean –– in 1873. And we draw upon our heritage to continually reinvent the blue jean for generation after generation. Welcome to the place where that heritage lives on LeviStrauss.com.
Here, among others, you'll find the story of the blue jean and the story of the man himself, our founder, Levi Strauss. It's an amazing tale of creativity, innovation and drive. And being in the right place at the right time.
Yes, Levi Strauss & Co. has a unique history and an amazing heritage, but it involves much more than faded denim. Our designers use products from our past to inspire the designs of tomorrow. And not only did we invent the blue jean, our Dockers® brand reinvented the khaki pant.
So jump in and enjoy true tales from the Levi's® and Dockers® brands and Levi Strauss & Co.
Heritage Timeline
Levi Strauss & Co. has been innovating since the birth of the first pair of jeans in 1873. Throughout our long history, we've inspired change in the marketplace, the workplace and the world. We invite you to take a look at our proud heritage in this timeline.
Levi Strauss
Levi Strauss, the inventor of the quintessential American garment, was born in Buttenheim, Bavaria on February 26, 1829 to Hirsch Strauss and his second wife, Rebecca Haas Strauss; Levi had three older brothers and three older sisters. Two years after his father succumbed to tuberculosis in 1846, Levi and his sisters emigrated to New York, where they were met by his two older brothers who owned a NYC-based wholesale dry goods business called "J. Strauss Brother & Co." Levi soon began to learn the trade himself.
When news of the California Gold Rush made its way east, Levi journeyed to San Francisco in 1853 to make his fortune, though he wouldn't make it panning gold. He established a wholesale dry goods business under his own name and served as the West Coast representative of the family's New York firm. Levi eventually renamed his company "Levi Strauss & Co."
Around 1872, Levi received a letter from one of his customers, Jacob Davis, a Reno, Nevada tailor. In his letter, Davis disclosed the unique way he made pants for his customers, through the use of rivets at points of strain to make them last longer. Davis wanted to patent this new idea, but needed a business partner to get the idea off the ground. Levi was enthusiastic about the idea. The patent was granted to Jacob Davis and Levi Strauss & Company on May 20, 1873; and blue jeans were born.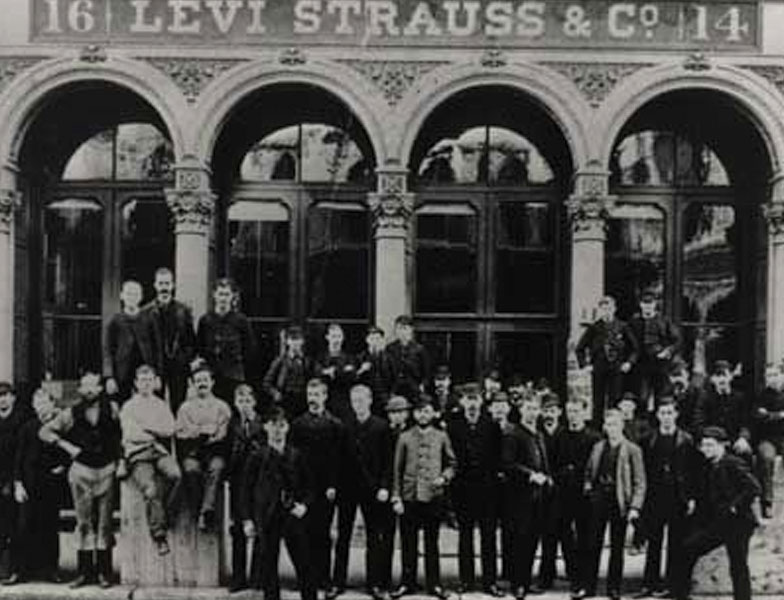 Levi carried on other business pursuits during his career, as well. He became a charter member and treasurer of the San Francisco Board of Trade in 1877. He was a director of the Nevada Bank, the Liverpool, London and Globe Insurance Company and the San Francisco Gas and Electric Company. In 1875, Levi and two associates purchased the Mission and Pacific Woolen Mills.
He was also one of the city's greatest philanthropists. Levi was a contributor to the Pacific Hebrew Orphan Asylum and Home, the Eureka Benevolent Society and the Hebrew Board of Relief. In 1897 Levi provided the funds for twenty-eight scholarships at the University of California, Berkeley, all of which are still in place today.
At the end of the 19th century, Levi was still involved in the day-to-day workings of the company. In 1890 — the year that the XX waist overall was given the lot number "501®" — Levi and his nephews officially incorporated the company.
Levi Strauss passed away on Friday, September 26th 1902.  His estate amounted to nearly $6 million, the bulk of which was left to his four nephews and other family members, while donations were made to local funds and associations.
We're proud to honor Levi Strauss's legacy by celebrating his commitment to community, philanthropy and an unswerving devotion to quality. To this day, Levi Strauss & Co. strives to align itself with the same principles that guided Levi's life.
The Invention of the Blue Jean
May 20, 1873 marked an historic day: the birth of the blue jean. It was on that day that Levi Strauss and Jacob Davis obtained a U.S. patent on the process of putting rivets in men's work pants for the very first time.

Levi Strauss, a Bavarian-born dry goods merchant, came to San Francisco in 1853 at the age of 24 to open a West Coast branch of his brothers' New York wholesale dry goods business. Over the next 20 years, he built his business into a very successful operation, making a name for himself not only as a well-respected businessman, but also as a local philanthropist. One of Levi's customers was a tailor named Jacob Davis.

We made our first jeans out of denim - the traditional fabric for men's workwear. Within a very short time, the jean was a bona fide success.

One day the wife of a local laborer asked Jacob to make a pair of pants for her husband that wouldn't fall apart. Jacob tried to think of a way to strengthen his trousers and came up with the idea to put metal rivets at points of strain, like pocket corners and the base of the button fly. These riveted pants were an instant hit. Jacob quickly decided to take out a patent on the process, but needed a business partner to help get the project rolling. He immediately thought of Levi Strauss, from whom he had purchased the cloth to make his riveted pants.

Davis wrote to Levi to suggest that the two men hold the patent together. Levi, being an astute businessman, saw the potential for this new product, and agreed to Jacob's proposal. The two men received patent #139,121 from the U.S. Patent and Trademark Office on May 20, 1873.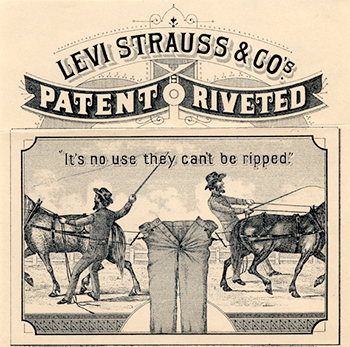 Soon, the first riveted clothing was made and sold. We made our first jeans out of denim — the traditional fabric for men's workwear. Within a very short time, the jean was a bona fide success. (Although, we should note that they were called "waist overalls" or "overalls" until 1960, when baby boomers adopted the name "jeans.")
We consider May 20, 1873 the "birthday" of blue jeans, because although denim pants had been around as workwear for many years, it was the act of placing rivets in these traditional pants for the first time that created what we now call jeans.
The next time you see someone wearing a pair of Levi's® jeans, remember that these pants are a direct descendant of that first pair made back in 1873. That year, two visionary immigrants — Levi Strauss and Jacob Davis — turned denim, thread and a little metal into what has become the most popular apparel on earth.
Historical Resources
KEY READING
A short history of denim
A history of Levi's 501 jeans
A biography of Levi Strauss's business partner, Jacob Davis
A full biography of Levi Strauss
VIDEOS
Levi's As America: A Riveting Icon Part 1
Preserving the Past
Levi Strauss Welcomes Groundbreaking Innovation [American Heroes Channel]
RECOMMENDED READING
This is a Pair of Levi's® Jeans, published by Levi Strauss & Co.
Denim: From Cowboys to Catwalks, by Paul Trynka
Vintage Denim, by David Little
Compassionate Capitalism: How Corporations Can Make Doing Good an Integral Part of Doing Well, by Marc Benioff and Karen Southwick
ADDITIONAL INFORMATION
Students and Teachers
Younger students will find many biographies of Levi Strauss in the juvenile section of school and public libraries. For the most accurate information, use the articles linked above or rely on books published in 2000 or later.
One of the best places to find material on Levi Strauss & Co.'s modern history is in the Reader's Guide to Periodical Literature, which indexes magazine articles published in the United States. Look under Levi Strauss & Co. or Levi's® jeans to find articles about our marketing strategies, production, advertising and other topics. You can also do an Internet search for articles available in full text online, or browse the News section of our website for recent media coverage and press releases. But be careful: there are a lot of myths about our company and our jeans in cyberspace, and you shouldn't rely on the Internet for historical research.
Our company historian is happy to answer basic questions about our history or the company, but we cannot undertake large-scale research. E-mail questions to blog@levi.com and allow two-to-three weeks for a response.
Consumers and Collectors
Let's start with our famous 501® jeans. Turn up the cuff and check and see if there is a section of white fabric or "selvage" showing, as shown in the photo. If so, read on.
Next, take a look at the right back pocket. Do you see our famous red Tab? Is the word LEVI'S® in all capital letters (as in this photo), or does it have a small letter "e" instead? The Tab with LEVI'S (also known as "Big E") means that your jeans are from before 1971.
If your jeans have a buckle and strap on the back of the waistband, like the pair pictured here, then you're really cooking: this pair is from the 1930s or earlier.
As you go further back in time, our jeans become much harder to spot because they don't have a red Tab, belt loops, or other identifying marks. Take a look at the history of the 501® jean to learn how they have evolved over the decades.
What about jackets? Older jackets have only one pocket on the chest. And, if the jacket doesn't have the red Tab, that means it's from before the mid-1930s and really desirable.
Publishers and Photo Researchers
Need photographs to illustrate a book or magazine? Follow the steps outlined here.
Manuscripts or photo captions must be submitted to the company for fact-checking before any illustrations will be provided. E-mail the material as an attachment in Word format. Use the body of the e-mail to describe the type of photos you are looking for or to request information about the images that are available for your particular manuscript.

For works on the history of denim, jeans, biographies of Levi Strauss or other historical topics, submit your material to Tracey at tpanek(at)levi.com.
For works on corporate citizenship and sustainability, submit your material to Marisa Giller at mgiller(at)levi.com.

Due to the volume of requests we receive, we will assist if time and resources allow. Please allow 2 weeks for a response.
The cost of this service depends on the type of images you need. We can provide illustrations in jpg format via e-mail at no charge. If you require high-resolution digital images, there will be a charge of $15 per image plus $25 for a CD. High-res photos may be provided by an external digital vendor who will bill you directly.